Obama Wants FBI Director Mueller To Stay An Additional Two Years
President Obama has announced he will ask Congress to extend the tenure of his FBI director for two more years.
Robert Mueller's 10-year term is set to expire in September.
Mueller became FBI director only days before the September 11, 2001, terrorist attacks. In a statement announcing the decision, the White House quoted the president as saying that "Bob Mueller has set the gold standard for leading the bureau. Given the ongoing threats facing the United States, as well as the leadership transitions at other agencies like the Defense Department and Central Intelligence Agency, I believe continuity and stability at the FBI is critical at this time."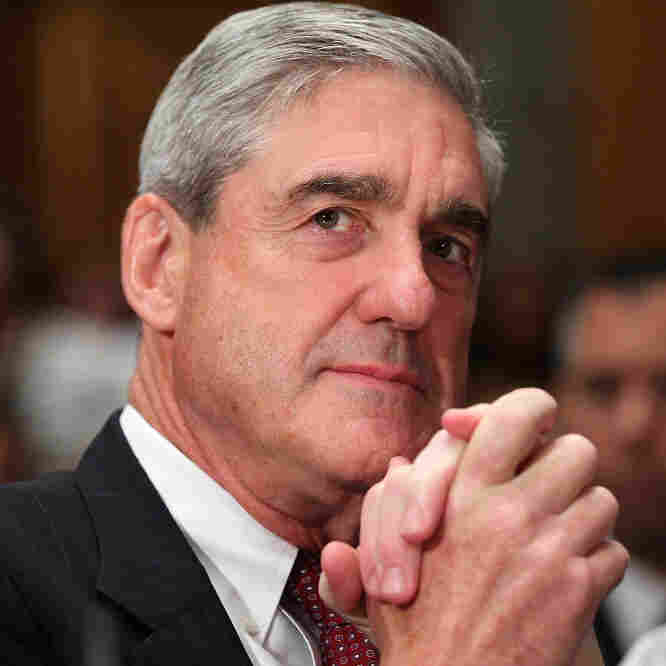 Mueller has indeed overseen a major transformation of the FBI, which now gathers intelligence and continues to fight crime.
Attorney General Eric Holder, also in a statement, said Mueller is "one of the most respected prosecutors of his generation ... [and] has earned the confidence of two presidents for his ability to lead and his calmness under fire."
Sen. Patrick Leahy (D-VT), who chairs the Senate Judiciary Committee, announced he supports the decision. And the FBI Agents Association, which represents nearly 12,000 active and retired agents, said it too is in favor.
Mueller enjoys strong support in the White House and at the highest levels of the Justice Department.
In an interview with NPR last month, Attorney General Holder cited Mueller's understanding of "what a 21st century FBI has to look like."
"I think he's done a good job in transforming the FBI," and recognizing that the leader of the FBI "has to exercise independent judgment," Holder said. "Bob Mueller ... has been a great director in that he's understood both what his responsibilities are and what the limits are as to that job."
Some of the candidates reported to be on the short list for the FBI directorship, including former Deputy Attorney General Jim Comey and U.S. court of appeals Judge Merrick Garland, told officials they weren't interested, according to two sources who spoke with NPR. And others, such as Chicago U.S. Attorney Patrick Fitzgerald, might be hard to get through the Senate. He prosecuted Lewis "Scooter" Libby, who was chief of staff to Vice President Cheney, over the leaking of CIA officer Valerie Plame Wilson's identity. That has made Fitzgerald unpopular with many Republicans.
White House spokesman Jay Carney told reporters at a briefing today that Mueller has served with excellence "during one of the most difficult periods in this nation's history" and said Mr. Obama was grateful that Mueller had agreed to spend two more years in the administration.
Carney said politics didn't play a role in the decision. In fact, the spokesman said, the opposite was the case. The person who wins the next presidential election will have a chance to appoint a new FBI director to a full 10-year term.