Castro: The Man and His Clothes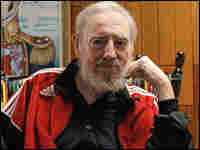 Re: Fidel Castro stepping down from power after nearly 50 years: First, let me congratulate the U.S. government. To all the naysayers who thought the slow, inexorable, decades-long grind of the economic embargo against Cuba would never work, I say: Mission Accomplished. And, to Raul Castro, if you think you've got an iron grip on things, I say to you: Get your calendar out. Your years are numbered.
But I will say this: Is it possible that not all the credit can go to the embargo?
In watching the endless archival footage of Castro played and replayed on cable TV, one thing stood out to me. Castro then/Castro now.
Castro then: a cigar-chomping El Jefe in military fatigues, ready to fight any brushfire war anywhere.
Castro now: an old guy wearing a track suit. Seriously, is that the gear of the dictator of a throwback Cold War-era satellite nation, or your grandpa going out to catch the early-bird special at Denny's? I saw Castro in that getup and it was obvious he was done.
So, is it really possible that if clothes make the man, they can undo him as well?
Wither Pervez Musharraf. When he was in his military duds, there was no doubt the dude was the iron-fisted strong man who led a bloodless coup to "save" his country. Then he "retired" from the military, swapped his soldier greens for business blue and got his ash can kicked in Pakistan's recent parliamentary elections.
Note to dictators: Ditch your tailor; stick with the scrambled eggs and chest decorations.
Which is a good idea, even if you're not in the military.
Besides the fact that he's loopy, can you really take Iranian President Mahmoud Ahmadinejad seriously in that anti-Western Western suit he wears? Kind of reminds me of the guy who shows up to an ultra-fancy restaurant just wearing a shirt and is forced into wearing the joint's one, ill-fitting jacket. In my Mr. Blackwell-esque opinion, Ahmadinejad would do much better in some official Mullah-wear that just screams "yes, I will dirty bomb you" the minute you set your peepers on him.
Speaking of Ahmadinejad, remember way back when Barack Obama was only super-popular instead of Jesus-popular? He used to go around sporting an open collar, and CNN infamously ran a piece saying the look was eerily similar to Ahmadinejad's casual Islamofascist style. Well, Obama got regular with some neck wear, and the rest is almost history.
What the wrong clothes undo, the right threads will redo as well.
Let's face it: Life Is Outfits. Mr. Ahmedinejad's droll apparel choices are the punch line to his rhetoric; Osama bin Laden, if he's not sporting a shroud, favors a bed-beard and remnant-wrap. Hugo Chavez' wardrobe is the epitome of Made in China, and the cake-taker is the North Korean head of state
-- darling, those HEELS! Here at home, will Senator Clinton launch a line of fever-hued jackets and black pants for the frumpy-at-heart? Or will congress dust off the Capitol treadmill for members hoping to emulate Sen Obama? Stay tuned to "Life Is Outfits."
John Ridley
Your column is always worth the read. I can't regularly tune in to Morning Edition, but have a one-click link to this column. But I hope you're off base on this one. I hope were coming to a time when threads don't define like they so often have. I mean, where's Steve Jobs' neckwear?
The embargo had something to do with Castor retiring? What? Exactly the opposite. It gave him something to do. Not to mention Fidel is one of the longest running heads of state in the history of mankind.
The idea that Fidel Castro stepping down at age 81, after 49 years of rule and a severe health problem means that the US embargo on Cuba has worked is absolutely illogical and absurd. 49 years! Was he supposed to be there for 150 years? Makes no sense whatsoever. It is incredible how mediocrity gets rewarded in this country. There are innumerable dictators who got kicked out while still wearing medal-studded military outfits, and there are cruel dictators who ruled and died without spotting any military outfit. Ahmadinejad is a college professor--most Americans of course don't know that, we hardly know much--and his wardrobe reflects that. Nothing to do with anti-West or any of this what's the word again. Sorry, Mr. Ridley, your piece promises much with its title but delivers little. Riddle unsolved.
John Ridley you are one very funny guy. Tell ya that right now. Very Funny! Castro should never have dressed in a track suit for sure!
xo
Peace
Mary Macdonald away up in wintry (because it IS wintertime) Bloomfield Ontario Canada
You need a history lesson.....and traveling abroad a bit might help as well. You share a uniquely exquisite kind of ignorance with many Americans about Cuba - a former slave colony, with national health coverage and a higher literacy rate than the good ole US. People from all around the world are visiting Cuba. Educated, informed people who can form their own opinions on places and people...Very classy of you to poke fun at an old person who choses to dress more comfortably in his waning years.... And what "MISSION" has the embargo accomplished. It has forced a dictator to tighten his paranoid grip, and plunged and entire nation(90 miles south of Florida) into abject poverty. Bravo! Castro is not being forced down from the pressure of the mighty US embargo. He is an old man who is dying. What will Geoge Bush- our very own home-grown dictator- be wearing when he is a lonely old man, secluded on his big Texas ranch? Will the mothers of thousands of dead soldiers even care?
I enjoyed this column. The reference to the scrambled eggs snapped me back to a memory of a boot camp lecture in Cape May, and a drill instructor's advice that the uniform makes the man. In the same lecture he talked about the order of scrambled eggs on the cover of a senior officers. Thanks for the memories.
Fidel's an old [hu]man. Let the man grow old comfortably.
Right on. I mean, Idi Amin, Joseph Mobutu, Momar Khadafi, those guys had/have style.
Maybe the embargo did something small but I think is ashamed for any country inclusing usa to have in a 21 century a dictator for 50 year ruling a peoples lives
My goodness!
God Save America and the Americans!
Ridley is plain wrong. The numbers show that sanctions and embargoes only hurt the people it attempts to help by making them more vulnerable and allowing a dictatorial government to achieve even greater power. This simply happens because people are unable to make ends meet without government assistance and thus a dictator is allowed to insert itself into even more aspects of their lives.
Bravo Bush, Bravo US government for making a petty dictator hold onto power for 49 years! This is not a cause for celebration - it is something to be ashamed of as the mantle of power has not passed to the people, but to the dictators brother, where all evidence shows it will continue to rest.
Stalin! Fidel is not the longest running head of state in the history of mankind.
Even if she doesn't rule the country, our Queen Elizabeth II The Queen is Head of State in the United Kingdom of Great Britain and Northern Ireland and of Her other Realms and Territories Queen, Head of the Commonwealth, Defender of the Faith. The Queen's Coronation was on 2 June 1953. So, she has been in power for nearly 55 years ... longer than Mr Castro. OK?
I think sarcasm should prevail for looking at US and your dangerous president, and US citizens who have voted for such an individual. I went to Cuba few days ago and was surprised by the achievements that society has made. Of course lack of freedom is not justifiable. That is the first right. But are you sure every individual in the US enjoys freedom in absolute terms?
Funny . . . now when we get rid of Mr. Bush I hope there is some change in the Cuban policy. Castro used the US embargo to tell the cuban people he wasn't to blame that there wasn't any food on the table. Our policy was if they get hungry enough they will kick him out.
He's the grandpa I always wanted.
Actually, I don't think the clothes make the person, I think they reflect the attitude and mindset of the person wearing them, an external signal to the outside world. For instance, if Barak wasn't as adaptable as he is, would he have changed his collar? Would he have even acknowledged the comment if he hadn't been socially conciencious? Our clothing doesn't affect us; we affect our clothing.
What!!? the embargo worked!? The embargo is the equivalent of burning the village in order to save it. The only people who suffered during the embargo where the vulnerable and defenseless.
Pretty funny stuff. Some of the comments seem to miss the point that you have a great sense of humor.
Um, guys, I think the "embargo worked" thing was meant to be tongue in cheek. That's why it's funny.
Is it just me, or do some of these folks need an irony detector?
It's called sarcasm people.
Love the piece.
What do you suppose would have happened if Fidel had originally dressed in the track suit of the day? He would have set a fashion trend and become dictator.
Then, say when the Soprano's started wearing track suits, viewers would have reacted with.."Hey they're copying Fidel's look."
I was saddened to find out that his much younger brother Shecky was passed over in favor of Raoul.
You will be impressed if you will have the opportunity to meet this man, do not judge people just by what they wear. So what you think about Osama?, that was the most foolish commet I have ever read. A person who stands and is capable of convincement at least needs respect.
FYI for everyone slamming this column: it's not meant to be taken seriously. Clearly the embargo did little to end Fidel Castro's reign, and surely his clothes didn't do him in. IMHO this piece very successfully presents some humorous insight into current events. Appreciate it for what it is... pop culture entertainment.
The embargo did not do anything...it is absurd to think so. Let the old man die with some dignity.
The CIA tried to poison him to make his beard fall out. This would make him lose all credibility.
I see the clothes, and I see a man who probably can't dress himself anymore. I just see mid to late stage Parkinson's disease, and I can't wish that on another human being.
I am reassured that the US does have a diversity of opinion but the thought that someone who seems to think you can dismiss someone on the basis of their clothing is actually given a high-profile media voice fills me with horror. Does this mean we write off Einstein,Gandhi and Dylan Thomas?
US foreign policy has been disastrous in Cuba and in most all of Latin America. The embargo does nothing but hurt Cuban citizens NOT Castro or anyone else in a position of power. If the US had lifted the embargo while it could have made a difference Castro may have actually let go of the reins. instead a dictator has remained in power to spite the USA - way to go!!
THAT GRANPA FIGURE THAT MANY PEOPLE WANT TO HUG AND FIND SO CUTE IS A MURDERER OF THE FIRST CLASS.HE HAS SENT THOUSANDS OF PEOPLE TO THE FIRING SQUAD,HIS FAVORITE METHOD OF KILLING.HE HAS KEPT THOUSANDS OF PEOPLE IN JAIL IN SUB-HUMAN CONDITIONS AND HAS KEPT THE CUBAN PEOPLE DEPRIVED OF ALL LIBERTIES AND HUMANS RIGHTS.TAKE A SECOND LOOK AND SEE IF HE STILL LOOKS CUTE IN HIS ADDIDAS SUIT.