Are Things Going Rotten at Apple?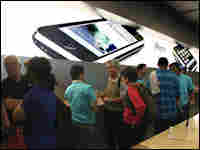 Got your new Apple 3G iPhone? If you've tried to get one, you've shared the collective pain of a lot of Apple customers. Having been an early adopter of the iPhone v. 1, I wasn't planning on getting a new phone until, in a Freudian slip, I lost my old phone just five days before the iPhone 3G launch.
Five long, lonely days that I had to live without a iPhone and the world learned to try — TRY — and live without me. Surprisingly, we did well apart from one another.
But absence and fondness and all that ...
So then Friday, July 11, arrives. iPhone 3G launch day. Lots of lines and few phones. No phones, really. Remember just a year ago when you could walk into an Apple store, buy a phone, go home and activate it on your own? Apparently that was too easy and non-time-consuming for Apple.
This go 'round Apple's having you do ALL the set-up in store, which means actually getting the phone in your hand takes forever. Forever and a day when you take into account Apple launched millions of phones for tens of thousands of customers to buy at hundreds of stores around the world.
What were the odds that Apple's server would crash harder than (insert coked-up teen pop culture celebrity here)? So, thousands stood in line for hours and got no phone. Or, if they did get a phone, it was temporarily useless. Add to that a buggy iPhone app store that was early on prone to crashing, a buggy MobileMe Exchange-like system that was early on prone to crashing, iPhones sold out everywhere, people still standing in lines going into the third week of the iPhone invasion ... (Personally, I got my phone with no waiting in line thanks to a level of chicanery I have not employed since graduating with honors from NYU.)
You've gotta wonder if Apple is losing some of its user-friendly charm.
Hardly.
When it comes to the full digital media experience, still nobody can compete with Apple. Anybody own a Zune? Any digital stores ready to take a run at the iTunes mountain? And that AppleTV "hobby" is about the best one going since the Sultan of Brunei started collecting Ferraris. Bottom line, it's still real good in MacVille.
Good...
But better if they could get back to the days when their end-to-end experience really worked end-to-end.