Social Entrepreneurs: Taking On World Problems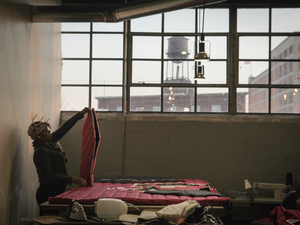 A worker with The Empowerment Plan creates a coat that will later be donated to a homeless person. The organization works inside Ponyride, a 30,000-square-foot warehouse near downtown Detroit. The warehouse hosts other local businesses, too.
View caption
Courtesy of Order & Other
()
Young entrepreneurs are revitalizing parts of the city, starting up businesses in what were once empty warehouses. They're creating buzz and enthusiasm. But in a city where the population is declining and the tax base is crumbling, there are doubts about how much impact their efforts will have.
heard on air
more Social Entrepreneurs: Taking On World Problems >