Jon Huntsman
Huntsman announced he was ending his presidential bid on Jan. 16, 2012.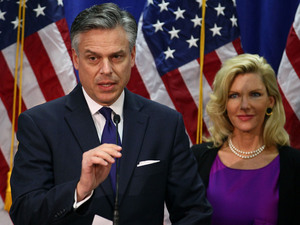 Former Utah Gov. Jon Huntsman, flanked by his wife, Mary Kaye, announced Monday at the Myrtle Beach Convention Center in South Carolina that he is ending his run for the Republican presidential nomination.
View caption
Mark Wilson/Getty Images
Huntsman's candidacy never resonated with Republican primary voters. In announcing his withdrawal from the race, he says he will support Romney, calling him the "best equipped" to defeat President Obama.
heard on air