Reflecting On Sept. 11, 2001
Hide caption

The "Tribute in Light" illuminates the sky in New York on the 10th anniversary of the 9/11 attacks.

Timothy A. Clary/AFP/Getty Images

Hide caption

President Obama speaks at "A Concert for Hope" at the Kennedy Center in Washington, D.C. on Sunday.

Charles Dharapak/AP

Hide caption

People listen during a memorial service at the Pentagon in Arlington, Va.

Brendan Smialowski/Getty Images

Hide caption

Michael Lehrman, Executive Managing Director of Cantor Fitzgerld and Co., bows his head at the names of some of the over 600 employees from Cantor Fitzgerald who lost their lives in the Sept. 11 attacks, at the 9/11 memorial in New York City.

Carolyn Cole/AP

Hide caption

San Diego City firefighter William McLaughlin pauses as he looks at a memorial for the 343 New York firefighters who died during the Sept. 11 attacks, on Sunday in New York City.

Justin Sullivan/Getty Images

Hide caption

People gather outside the World Trade Center site in New York City.

Oded Balilty/AP

Hide caption

President Barack Obama and first lady Michelle Obama attend a commemoration ceremony at the Flight 93 National Memorial in Shanksville, Pa.

Mandel Ngan/AFP/Getty Images

Hide caption

Daniel Jones, who lost his brother, Christopher Carstenjen, in the Sept. 11 attacks, stands at the 9/11 Memorial in New York City.

Carolyn Cole-Pool/Getty Images

Hide caption

August Larsen, 9, makes a rubbing of his father's name from panels bearing the names of Sept. 11 victims at the 9/11 Memorial.

Aaron Showalter/Pool/Getty Images

Hide caption

U.S. Marines salute during a ceremony in Shanksville, Pa.

Nicholas Kamm/AFP/Getty Images

Hide caption

President Barack Obama and first lady Michelle Obama hug people during ceremonies at the 9/11 Memorial.

David Handschuh/Pool/Getty Images

Hide caption

Former New York City Mayor Rudolph W. Giuliani (left) speaks with his wife, Judith Nathan, at his side in New York City.

Stan Honda/AFP/Getty Images

Hide caption

U.S. President Barack Obama and first lady Michelle Obama with former President George W. Bush and his wife, Laura Bush, at the 9/11 Memorial.

Mandel Ngan/AFP/Getty Images

Hide caption

Nia Evans, who lost a friend at the World Trade Center, observes a moment of silence in New York City.

Spencer Platt/Getty Images

Hide caption

U.S. soldiers pray at an anniversary ceremony at Bagram Air Field in Afghanistan.

John Moore/Getty Images

Hide caption

People observe a moment of silence during a ceremony at the Pentagon in Arlington, Va.

Win McNamee/Getty Images

Hide caption

James Taylor performs at the site of the World Trade Center.

Allan Tannenbaum/Pool/AP

Hide caption

Robert Peraza, who lost his son Robert David Peraza, pauses at his son's name at the 9/11 Memorial.

Justin Lane/Pool/Getty Images

Hide caption

Secretary of State Hillary Rodham Clinton visits the 9/11 Memorial.

Todd Heisler-Pool/Getty Images

Mladen Antonov/AFP/Getty Images
Around the nation today, the 10th anniversary of the Sept. 11 terrorist attacks was marked with prayers, solemn ceremonies, vows to remember the nearly 3,000 victims and pledges to never let terrorists fundamentally change the American way of life.
Robert Peraza's moment of prayer is one of the most-viewed images from the 10th anniversary.
A former interrogator says rivalries inside the government led to missed intelligence opportunities.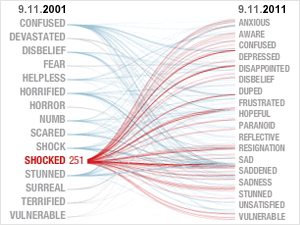 Our interactive graphic shows the link between how people felt that day and feel now.
September 12, 2011 Author Christine Naman recounts the birth of her son on September 11th, 2001 as the final installment of Tell Me More's essay series "Where Were You?" In two books, she chronicles the optimism she wishes for her child and documents stories of 49 others born that day.
September 11, 2011 On the forefront of Sept. 11th's legacy, U.S. service members commemorated the 10th anniversary of the day in Afghanistan.
September 11, 2011 William Langewiesche's three-part series on the recovery effort at ground zero, "American Ground: Unbuilding The World Trade Center," was the longest piece of original reporting ever published by the Atlantic Monthly. Ten years later, he warns against wallowing in the events of that day.
September 11, 2011 John Ashcroft's term as attorney general under George W. Bush was redefined by Sept. 11. He explains and defends the techniques endorsed by his Justice Department, including warrantless wiretaps and changes to interrogation techniques.
September 11, 2011 A ceremony across the river in New Jersey honored the almost 1,000 dogs who served during Sept. 11.
September 11, 2011 Solemn scenes from the Sept. 11 memorials in New York, Pennsylvania and at the Pentagon.
September 11, 2011 Designed as both a park and a place of remembrance, families of the victims are already using the new memorial for both purposes.
September 10, 2011 While far from the Sept. 11 crash sites, Murfreesboro is embroiled in a debate over the building of a mosque. According to the local imam, the attacks have become a political wedge between the Muslim community and some residents.
heard on air
more Reflecting On Sept. 11, 2001 >