Superstorm Sandy: Before, During And Beyond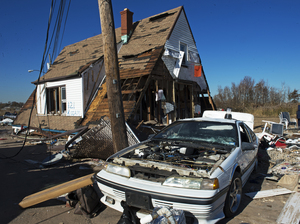 Floodwaters from Superstorm Sandy destroyed the first floor of this house in Staten Island, New York. Most of the people who drowned during the storm died in their homes in low-lying areas of New York and New Jersey.
View caption
Paul J. Richards/AFP/Getty Images
Despite advances in predicting dangerous weather and better evacuation planning, some people still stay put when devastation looms. A study of deaths during Superstorm Sandy in 2012 raises a big question: Why didn't the people at risk move to higher ground?
heard on air
more Superstorm Sandy: Before, During And Beyond >