archive
Wednesday, May 07, 2008
Wednesday, April 30, 2008
Wednesday, February 27, 2008

Wednesday, January 30, 2008
Wednesday, January 16, 2008
January 16, 2008 Republican candidates move from Michigan to South Carolina.
Wednesday, January 09, 2008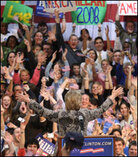 Wednesday, December 19, 2007
Wednesday, September 19, 2007
September 19, 2007 Hi all. Busy day...but today's show looks like it's coming together quickly. Our first hour will be a discussion about U.S. contractors in Iraq. The Iraqi government recently decided to ban the private security contractor Blackwater USA after a de...
Wednesday, September 05, 2007
September 5, 2007 If ever a day begged for a political junkie segment, this is it. We planned to talk a little bit about Senator Larry Craig's resignation, and then