archive
Tuesday, September 21, 2010

September 21, 2010 Democrats hope Social Security remains the third rail of U.S. politics so they can use it as an issue against Tea Party-backed Republican candidates for congressional posts.
Monday, August 02, 2010
August 2, 2010 After his partner of 32 years died, Bill Bowersock stopped receiving Social Security because on paper, their relationship doesn't count.
Wednesday, March 17, 2010
March 17, 2010 Someone at Social Security's getting paid to have a whole lot of fun making YouTube videos.
Tuesday, October 07, 2008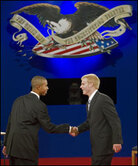 October 7, 2008 Time to bone up for tonight's debate: NPR reporters bring you up to speed on the candidates' takes plans for Social Security, health care, and education.