archive
Wednesday, September 08, 2010

September 8, 2010 It's well-known that the sizes on women's clothing are unreliable.  But men have long relied on the sanctity of sizing by waist measurement.  Think again.  Abram Sauer at Esquire found men's pants sizes are every bit as unreliable as women's.
Tuesday, July 13, 2010
July 13, 2010 Terry Kniess named the price of the Showcase exactly: $23,743. But did he do it alone? He says yes, absolutely.
Tuesday, January 05, 2010
January 5, 2010 Why are the January offerings at the movie theater so rotten? Is there anything we can do about it?
Thursday, May 28, 2009
May 28, 2009 On the cusp of mega-fame and much conversation at TOTN's morning meeting: Zach Galifianakis.
Monday, March 09, 2009
March 9, 2009 Only one woman made Esquire's list of 75 albums every man should own. Let's help them out with a few more, shall we?
Monday, April 07, 2008
Tuesday, March 11, 2008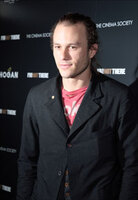 March 11, 2008 Esquire's got Heath Ledger's diary... sort of.