archive
Monday, December 31, 2012
December 31, 2012 It is New Year's Eve. And that means people will: go to parties and drink Champagne; ignore the hubbub and go to bed by 10; start cooking for New Year's Day; watch college football — or some combination of the above. For many people, the center of attention tonight will be New York's Times Square, where the famed ball will drop.
December 31, 2012 As a clock tower rings out 12 chimes, people all over the country will scoff a dozen grapes, hoping for good luck. With several seeds per grape and only a couple of seconds to swallow each one, the task is harder than it sounds. And then there's the bit about wearing a gift of red undergarments.
December 31, 2012 Here are a few things to look for if you're trying to distinguish the age of your bottle of bubbly or the method by which it was made. And if you just want to get the most bang for your buck when it comes to preserving the bubbles, consider how you pour.
Sunday, January 01, 2012
January 1, 2012 The new year arrived in a wave of celebrations Saturday night. Fireworks brightened night skies in London, Berlin and beyond. People made resolutions that they may or may not keep, but for now, hope is present.
Friday, December 30, 2011
December 30, 2011 When it comes to champagne, scientists have found it's best to chill it and tilt it to preserve the fizz.
Thursday, December 29, 2011
December 29, 2011 On New Year's Eve, don't open the front door in Denmark, look out for falling furniture in Italy and chew lightly when eating black-eyed peas in the South of the U.S.
Thursday, December 31, 2009

December 31, 2009 Today's Talk: Big philosophical questions, Iran, Ellen Goodman bids her column adieu, and New Year's superstions.
Monday, December 29, 2008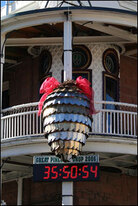 December 29, 2008 A giant bologna, a live opossum in a cage... Does your city or town drop something weird on New Year's Eve?