archive
Thursday, December 23, 2010
December 23, 2010 Emanuel's eligibility for mayor was contested by some who said he didn't meet the residency test. A hearing officer cast aside those challenges, saying that Emanuel didn't abandon his Chicago residency when he moved to Washington to work for Obama.
Wednesday, December 22, 2010
December 22, 2010 Two firefighters died at the scene of a fire after a wall collapsed. Fourteen other firefighters were injured.
Tuesday, September 07, 2010
September 7, 2010 Chicago's Mayor Daley said he won't run for re-election. He has served six terms since 1989.
Wednesday, September 01, 2010
September 1, 2010 Shawn Hazen is not a Chicago type, but he does love Chicago type — as in typefaces. He has a whole website dedicated to his font findings in the Windy City.
Friday, August 06, 2010
August 6, 2010 Two women were rescued from Lake Michigan's cool waters after treading water for four hours. Their sailboat had drifted away after they and two men decided to go swimming at 2 a.m. The men were not as fortunate. One body was found, the other missing.
Tuesday, June 08, 2010
June 8, 2010 A cartophile maps tourists versus locals, and the photos they take.
Wednesday, July 22, 2009
July 22, 2009 So the Sears Tower is gone. Another iconic name leaves Chicago... Get over it!
Thursday, March 12, 2009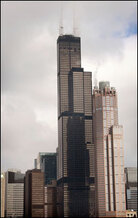 March 12, 2009 The Sears Tower, the tallest building in the United States, no longer exists.
Monday, October 15, 2007
October 15, 2007 An NPR producer moves home
Wednesday, October 03, 2007