archive
Thursday, July 04, 2013
July 4, 2013 Homemade sodas are hot these days: Americans bought more than 1.2 million home carbonators last year. For the Fourth of July, we asked mixologist Gina Chersevani to help us tap into the trend with a soda float inspired by Independence Day.
Thursday, July 02, 2009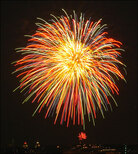 July 2, 2009 Troy Patterson says roman candles and blowing stuff up is fun, but over-sized, over-hyped fireworks displays suck.