archive
Friday, October 22, 2010
October 22, 2010 On Oct. 22, 1962, President Kennedy announces a quarantine of Cuba, blocking additional Soviet warships from delivering missiles to the island.  It becomes the leading issue of the 1962 midterm elections.
Friday, July 16, 2010
July 16, 2010 A former State Department official and his wife got life prison sentences for spying for Cuba.
Tuesday, June 09, 2009
June 9, 2009 Long before Walter Kendall Myers was accused of spying for Cuba, he taught Tom Murray's history class in Washington.
Monday, September 08, 2008
Wednesday, April 16, 2008

Tuesday, February 19, 2008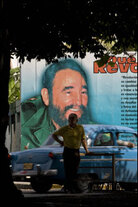 February 19, 2008 Big news out of Cuba, and we're working on a show about Castro's resignation, and what happens now.
Tuesday, February 12, 2008