archive
Tuesday, March 08, 2011
March 8, 2011 Travelers authorized to visit Cuba from the United States will now have more departure-city options. The U.S. government has added eight airports to the list cities allowed to handle direct flights between the two countries.
Friday, March 04, 2011
March 4, 2011 The trial of a U.S. aid contractor begins today in Cuba, where the man had been working to give Internet access to Jewish organizations. But Cuba says that the work that Alan Gross did for the U.S. Agency for International Development was subversive.
Tuesday, December 14, 2010
December 14, 2010 The lifting of travel restrictions for those with family members on the island has led to an explosion in travel. It's expected that the number of visitors from the U.S. this year will be five times that of the year before rules were eased.
Friday, November 05, 2010
November 5, 2010 More than a million people are still living in tents and under tarps in Haiti as Hurricane Tomas nears. Merapi death toll tops 100 as searing gas hits a village thought to be in the safe zone. No survivors on Aero Carribean flight 883.
Friday, October 22, 2010
October 22, 2010 On Oct. 22, 1962, President Kennedy announces a quarantine of Cuba, blocking additional Soviet warships from delivering missiles to the island.  It becomes the leading issue of the 1962 midterm elections.
Friday, July 16, 2010
July 16, 2010 A former State Department official and his wife got life prison sentences for spying for Cuba.
Tuesday, June 09, 2009
June 9, 2009 Long before Walter Kendall Myers was accused of spying for Cuba, he taught Tom Murray's history class in Washington.
Monday, September 08, 2008
Wednesday, April 16, 2008

Tuesday, February 19, 2008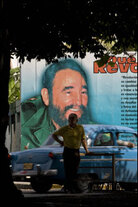 February 19, 2008 Big news out of Cuba, and we're working on a show about Castro's resignation, and what happens now.
Tuesday, February 12, 2008