archive
Wednesday, October 02, 2013
October 2, 2013 Residents of the St. Louis area don't all agree on which politicians to blame for the government shutdown, but they do agree that they're doing a lousy job and should have their pay suspended.
Wednesday, August 28, 2013
August 28, 2013 Missouri has had control of the city's police force since the civil war. Claiborne Jackson, Missouri's segregationist governor, didn't want the Unionist city controlling its own arsenal.
Friday, February 15, 2013
February 15, 2013 If you're not from St. Louis, you've probably never heard of Provel. It's a processed blend of cheeses extolled in the area for its buttery texture and smoky, tangy flavor. Now Provel has made its way into the unlikeliest of places: the hipster foodie mecca of Brooklyn.
Friday, April 06, 2012
April 6, 2012 Already home to the World Chess Hall of Fame and the national chess championships, the city has now attracted an entire collegiate championship team.
Friday, January 27, 2012
January 27, 2012 Organizers say it's the first major parade for the men and women who fought in Iraq. They're hoping thousands turn out, just as people there did for the World Series champions last fall.
Monday, April 25, 2011
April 25, 2011 When a tornado struck Lambert-St. Louis International Airport Friday night, a security camera caught some amazing footage as things went flying. No one was killed by the storm that also destroyed about 100 homes.
Friday, September 10, 2010
September 10, 2010 The Political Junkie visits St. Louis, and member station KWMU, next Tuesday and Wednesday for a stimulating (?) conversation about politics.
Tuesday, October 07, 2008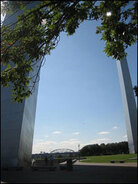 October 7, 2008 Talk of the Nation's been scattered to the four corners of the U.S. lately (OK, not exactly, but it feels like it with trips to Tempe, St. Louis, Columbus and Athens, and Blacksburg, VA), and right now most of our crew's in Ohio. Tonight Nea