archive
Wednesday, November 28, 2012
November 28, 2012 Their inclusion puts the sport's steroids era on many minds. Though the stars have fought allegations that they used performance-enhancing drugs, it's questionable whether they'll be elected to the Hall anytime soon.
Tuesday, August 21, 2012
August 21, 2012 The Rocket will pitch for the independent Sugar Land Skeeters in Texas. A Houston Astros scout says the Clemens, 50, looks good. Clemens might want another MLB start to delay a Hall of Fame vote. Putting it off would put distance between a ballot and allegations he used performance enhancing drugs.
Tuesday, June 19, 2012
June 19, 2012 The superstar pitcher has been found not guilty of lying to Congress about performance-enhancing drugs. His career stats are Hall of Fame stuff. Should he get in?
Monday, April 23, 2012
April 23, 2012 The retrial of baseball great Roger Clemens began in earnest Monday after a week of jury selection. Prosecutor Steven Durham in his opening statement to the jury said Clemens, unlike other baseball greats who owned up to their mistakes, told lies and "other lies to cover up those lies."
Friday, September 02, 2011
September 2, 2011 Clemens' new trial, which will ask a jury to decide whether the baseball star lied about using steroids, will start April 17, 2012.
Friday, August 19, 2011
August 19, 2011 Prosecutors say they made an honest mistake in showing jurors inadmissible evidence.
Thursday, July 14, 2011
July 14, 2011 The perjury trial of Roger Clemens just started Wednesday, but it jerked to a halt today, as the judge in the case declared a mistrial. District Judge Reggie Walton ruled that prosecutors had improperly presented evidence to the jury on the trial's opening day.
Monday, August 30, 2010
August 30, 2010 Roger Clemens Pleads 'Not Guilty' To Lying To Congress
Friday, August 20, 2010
August 20, 2010 Does Roger Clemens Media Coverage Make You Hungry?
Thursday, August 19, 2010
August 19, 2010 ESPN.com fans back Roger Clemens charges by a huge margin. In an unscientific web poll, 51 percent said they supported the federal charges against Clemens for allegedly lying to Congress.
Wednesday, February 13, 2008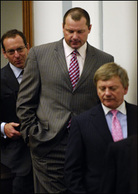 February 13, 2008 A 4-pack of hot topics on today's TOTN: the Potomac Primary and super delegates, settling for Mr. Good-Enough, moral ethics, and Roger Clemens and steroids.