Kaiser Chiefs: Memorable and Hook-Drenched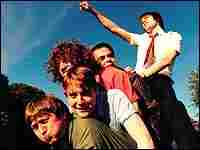 Set List
"Ruby"
"Thank You Very Much"
"Love's Not a Competition (But I'm Winning)"
"I Predict a Riot"
Named after a South African football team, Kaiser Chiefs formed in Leeds, England, in 1997. Seven years later, its mixture of Britpop, new-wave, mod and punk music helped make its catchy songs ubiquitous in the U.K. Employment, released here in 2005, became a domestic sleeper hit on the strength of songs like "I Predict a Riot."
After winning a handful of 2006 BRIT awards — for British Rock Act, British Live Act and British Group — Kaiser Chiefs just released the follow-up to Employment, titled Yours Truly, Angry Mob. Further improving on a reputation for memorable, energetic, hook-drenched songs, the disc finds Kaiser Chiefs sounding more confident than ever, and with good reason.