Peanut Company President Pleads The Fifth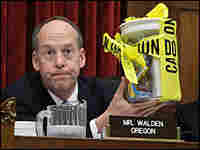 A House subcommittee on Wednesday tried to get to the bottom of the salmonella outbreak that has sickened at least 600 people — perhaps even thousands — and is linked to nine deaths.
The hearing revealed some details of the outbreak, but not the biggest ones. What every lawmaker on the subcommittee wanted to know was why the Peanut Corporation of America ran a plant with obvious problems, and why the company shipped product that had tested positive for salmonella.
The company's president, Stewart Parnell, had been subpoenaed, and the hearing began with a question from the chairman of the House Energy and Commerce subcommittee, Bart Stupak of Michigan:
"Mr. Parnell, did you or any officials at the Peanut Corporation of America ever place food products into the interstate commerce that you knew to be contaminated with salmonella?" Stupak asked.
"Mr. Chairman and members of the committee, on the advice of my counsel, I respectfully decline to answer your question based on the protection afforded me under the United States Constitution," Parnell replied.
Investigators from the Food and Drug Administration examined the records at the Blakely, Ga., plant that is the source of the contamination. They found 12 instances where initial testing showed the presence of salmonella in peanut products, and the company knowingly shipped those products.
Stupak also asked Parnell if he had listened to a previous panel of people at the hearing who testified about how their families had been seriously affected by the outbreak. Again, Parnell wouldn't answer.
"I just asked you if you heard the other panel," Stupak prodded.
"Mr. Chairman and members of the committee, on the advice of my counsel, I respectfully decline to answer your question based on the protection afforded me under the United States Constitution," Parnell said.
And Stupak asked Parnell if he considers food poisoning the cost of doing business for Peanut Corp. Again, Parnell declined to answer.
Parnell's refusals followed emotional testimony from the son of a Korean War veteran whose dad died; a police officer from Oregon whose 3-year-old son got sick; and Jeffrey Almer of Minnesota, whose mother, Shirley, died four days before Christmas after suffering serious cramping and diarrhea from salmonella.
"Shirley Almer had a lot of sissou, which in her Finnish heritage describes a person with spunk, fortitude and determination," Almer said.
She had been successfully treated for lung cancer in 2007, for a brain tumor in 2008, and she was recovering from a urinary tract infection at a rehab center when she ate some peanut butter.
"Cancer couldn't claim her, but peanut butter did," Almer said.
The meeting gave many committee members a sense of deja vu, including Republican Rep. Greg Walden of Oregon.
"I remember our previous food-safety investigations into E. coli and spinach, E. coli and meat, salmonella and peanut butter, salmonella and jalapenos, now salmonella and a variety of peanut-containing products," Walden said.
During the hearing, Walden held up a jar that contained recalled products and asked Parnell if he'd eat them. Once again, Parnell refused to comment, citing his Fifth Amendment rights.
The hearing focused not just on Peanut Corporation of America, but on whether the FDA should have done more to prevent the outbreak.
Stephen Sundlof, who directs the agency's Center for Food Safety and Applied Nutrition, testified that the FDA is writing tougher guidelines for food inspection, and that companies currently don't have to tell the agency if their own testing shows salmonella. State and federal testing is sporadic at best.
Sundlof also did something the FDA doesn't usually do — he asked for more power for his agency.
"At this time, we want to highlight the need for enhanced authorities in several areas," he said. "No. 1, authority for FDA to issue preventive controls for high risk foods."
And, he says, the agency would like the authority to get to food records easily, without going to court or threatening the food manufacturer or, in the case of the current outbreak, using food safety provisions meant to apply to bioterrorism investigations.