Shearwater: Soothing And Dreamlike
Set List
"Leviathan, Bound"
"Snow Leopard"
"Rooks"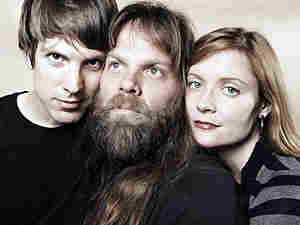 Led by former Okkervil River member Jonathan Meiburg, Shearwater possesses a rich, haunting and musically diverse sound. Last year's Rook is packed with careful, atmospheric arrangements and soothing, dreamlike vocals.
Rook is notable for its instrumental experimentation — with appearances by a harp, a homemade dulcimer, banjo and horns — as well as compelling stories that touch on science and Meiburg's favorite subject, birds. (Meiburg is a trained bird scientist.) In a session with host David Dye, the singer discusses how his idea of the human relationship with the natural world compelled him to write Rook.
Related NPR Stories
Web Resources
Purchase Featured Music
Album

Rook

Artist

Shearwater

Label

Matador

Released

2008
Your purchase helps support NPR Programming. How?