Racist? Political Cartoon Causes An Uproar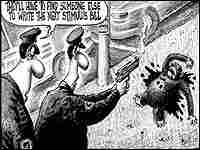 On this week's Reporters' Roundtable, a New York Post cartoon sparks controversy over race and President Barack Obama makes his first international trip as president to Canada.
Also, how can we expect the recently signed stimulus bill to help state and local government?
For more on the week's headlines, Tony Cox is joined by Jerome Vaughn, the News Program Director for WDET in Detroit, Michigan, and Corey Dade, the Atlanta Correspondent for The Wall Street Journal.