Documentary Celebrates 'Chris And Don'
The documentary Chris and Don: A Love Story chronicles the romance of writer Christopher Isherwood and artist Don Bachardy. Although Isherwood was 31 years older than Bachardy, their relationship lasted over 30 years and affected the art of both men.
Bachardy joins Fresh Air to talk about his life, career and relationship with Isherwood.
This interview originally aired July 9, 2008.
'Chris And Don': An Extraordinary Couple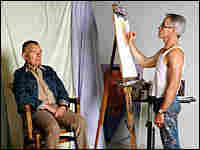 Jack Shear/Zeitgeist Films
Michael Childers/Zeitgeist Films
Artist Don Bachardy met British ex-pat author Christopher Isherwood on a Santa Monica beach in 1952. Bachardy was 18; Isherwood was 49. Given their age difference and Hollywood's then-repressive attitude toward homosexuality, their relationship came as a shock to many. Few expected their romance to last for years, let alone decades.
Their relationship is now the subject of the new documentary Chris and Don: A Love Story. The film traces their union from their first meeting to Isherwood's death from cancer in 1986.
Bachardy speaks with Terry Gross about his career as an artist and his relationship with Isherwood, who penned the Berlin Stories, which served as the basis for the musical and film Cabaret.
Bachardy and Isherwood collaborated on a number of projects, and Bachardy's illustrations often appeared in Isherwood's work.
As an artist, Bachardy achieved recognition outside of his relationship with Isherwood, creating portraits of such celebrities and notables as Jack Nicholson, Mia Farrow and Dorothy Parker. His book Stars in My Eyes describes the subjects of his works and was a best-seller in Los Angeles.
Bachardy's portraits are on display in the Smithsonian, the Metropolitan Museum of Art in New York, the National Portrait Gallery in London and the California State Capitol.