All Is Wild, All Is Silent
Balmorhea: A Crescendo Toward Spring
Balmorhea: A Crescendo Toward Spring
All Is Wild, All Is Silent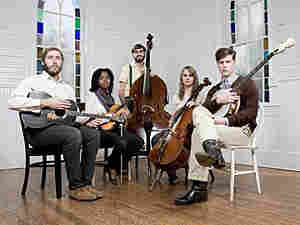 Named for a picturesque town and state park in Texas, Balmorhea has a sound that evokes imagery of brilliant landscapes and quiet pastoral scenes. Their sweeping instrumentals and sporadic yet haunting vocals draw influence from both classical music and experimental acoustic folk.
The group was originally composed of duo Rob Lowe and Michael Muller, but they've grown now to six members. The sextet's most recent album, All is Wild, All is Silent, retains their beautiful, classical acoustics but also dives into new territory with percussion, cello, upright bass and Jesy Fortino of Tiny Vipers contributing vocals. The result is a mature, sensuous tone on top of their already vivid style.
Support XPN
Stories like these are made possible by contributions from readers and listeners like you.