A Life Like A Diamond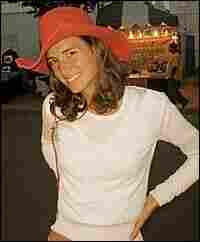 Courtesy of Caroline Simon
Courtesy of Caroline Simon
In a week dominated by threat of floods, war and recession, I hope you won't mind if I take time to note a personal loss.
A young cousin in our family, Camille Boniface, died this week. She was 21 and had fought cancer to a draw for about a year.
Camille was a French girl, but she had American moxie. She was ambitious, bold and funny. She wanted to see Algiers, London and New York. She wanted to finish school in her medium-sized town in Normandy and come to America, where she believed people could become whatever they wanted to be. We wanted to help her.
We spent a lot of time with her last summer, and I remember watching Camille — who had lost her hair to chemotherapy but was still striding tall and laughing loudly — walk across a rocky, blustery beach in Brittany holding hands with our two daughters and marveling at how the tumblers of the universe can sometimes spin to let three fierce and funny souls from different places find each other.
When a great man dies, like John Hope Franklin, it's a grave loss. But at the age of 94, you can almost see a gentle slip into the sleep of death as a kind of just reward for a life well-lived.
When a 21-year-old dies, you feel that the world, as much as her family and friends, has been cheated. But in her last days and hours, Camille told visitors, "I just have to get through this, and I'll be fine." She wanted them to take care of each other.
I think that some lives are like diamonds. They pack a lot of light and brilliance into a small space.
Last week, my wife and daughters were able to spend what my wife describes as a truly blissful day with Camille. She was already profoundly tired, so they all curled up on her bed in the afternoon sunlight and spread out a map. Our 2-year-old dozed. My wife and our 5-year-old showed Camille the river that runs by our apartment, our daughter's school, their favorite cupcake shop around the corner, and all of the most fun places they would take her.
My wife and Camille both knew by then that her visit was improbable. But I think that when you know in your bones and heart that you may only have a little left of life's blessing, you want to spend it in hope, not despair; hope is what you want to share with the children around you.
When my wife and daughters left the next day, Camille's sickness was already making its last moves. The pain she must have felt — in her limbs; in her soul — is too excruciating to imagine.
Camille roused herself with a last, challenging gleam and a game smile and told them, "See you around."
We do. Everywhere.