Brazzaville: Adventure and Experimentation
Song List
"Star Called Sun"
"Peach Tree"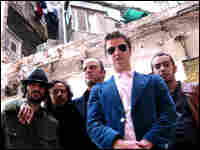 With members from America and Spain, Brazzaville draws on a sense of experimentation and adventure when crafting its spirited, unpredictable bossa nova music. Working from a foundation of guitars, bass, drums, keyboard, violin and the occasional brass instrument, Brazzaville has been lauded for its songs' texture and complexity.
Bandleader David Brown developed the idea for Brazzaville while serving as the saxophonist for Beck, whose eclecticism seems to have been an inspiration. The group has drawn many comparisons, most commonly to Tom Waits, but its sound isn't easily pigeonholed. The band currently lives and records in Barcelona, as part of Brown's effort to allow world music to influence his sound.
Featured Artist
Purchase Featured Music
Album

Welcome to Brazzaville

Artist

Brazzaville
Your purchase helps support NPR Programming. How?