Balkan Beat Box: An All-World Techno Explosion : World Cafe For Balkan Beat Box, accomplished underground musicians Ori Kaplan and Tamir Muskat assembled a diverse group to play intensely unpredictable, danceable music. Hear an interview, as well as a studio performance of songs from the new album.
Balkan Beat Box: An All-World Techno Explosion
Set List
"Digital Monkey"
"B-B-Beat"
"Hermetico"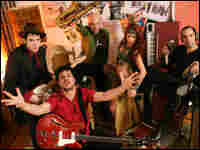 Accomplished underground musicians Ori Kaplan (Gogol Bordello) and Tamir Muskat (Firewater, Big Lazy) have performed in many innovative bands in the past decade. In 2005, the duo teamed up and assembled a group of musicians as diverse as their musical backgrounds — members hail from Turkey, Israel, Spain and Morocco — to form Balkan Beat Box. The band soon recorded a danceable self-titled debut, which was an instant success across North America and Europe.
Balkan Beat Box's live shows feature revolving musicians in a techno explosion driven by DJs, brass, guitars and electronics. With a stated goal of defying stereotypes and political borders, the group just released its second album, Nu Med.