Spring's Cold Comfort: Fresh Cream Desserts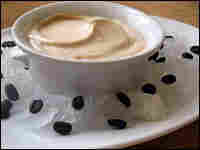 About The Author
I don't remember the first time I ate creme brulee, but I do remember the sensation. What I expected was something like pudding, quick to slide down the throat and vanish from memory.
What actually happened, of course, was something completely different. The first quivering spoonful was so smooth, I almost doubted it was there. Then the sheets of rich, sweet silk coated my tongue, bringing the world to a standstill. Shards of brittle caramel followed, underscoring that momentary satin sensation.
I'm not sure there is a luxury more absolute than the taste of real cream. It is the very taste of excess. Maybe it's not surprising that I've forgotten the circumstances of that first taste, because the shocking richness of cream has a way of erasing everything else in the room — the sound of silverware, the clatter of dishes, the conversation of your dining companions.
Anne Mendelson, the author of the vastly entertaining Milk (Knopf 2008), told me cream wasn't always so highly regarded. It wasn't until the 17th century, she says, that it even occurred to anyone to try to whip cream — which they did laboriously, using bundles of straw or twigs and carefully removing the foam, layer by layer, to a sieve. If you've ever beaten cream by hand with a whisk, you know it takes about 15 minutes if you're feeling perky, and the cream's nice and cold. (It's five minutes with an eggbeater.) But in the centuries before the invention of balloon whisks, using the straw-and-sieve method took an hour. Whipped cream was a rich man's dish then, and it still feels a little over-the-top.
But when I talk about cream desserts, I'm not speaking of whipped cream, which so often serves as a sugary afterthought to some other confection. I'm talking about desserts that are all about cream for cream's sake, such as creme brulee, pot de creme and the old-fashioned, mouthwatering Bavarian creams. Or the desserts that are basically cream discreetly corseted by starch — cream puffs or rice pudding. I harbor no prejudice when it comes to the spectrum of cream desserts. I think I'm woman enough to love them all.
Now, there are those who prefer their cream desserts in the fall, when their pure, go-for-broke spirit falls right in with one blowout holiday dinner after another. I favor them in the spring, when the cows traditionally come into their new milk. (And also when hens traditionally start laying again, and eggs abound. It's a time to be prodigal with the yolks, the secret agent that so often sets the cream.)
If you're lucky, you can get top-notch milk and cream from small farms with Jersey or maybe Golden Guernsey cows, whose milk has higher butterfat content and creamier flavor than your average Holstein's. In the spring, you may notice the milk taking up the grassy freshness of the new pasture after a winter spent indoors on hay and grain. When we've eaten our last sweet potato, when we've exhausted our inventiveness with cabbage, when the deprivations of Lent — real or imaginary — are fresh in our minds, that's the time for dairy decadence.
In my quest to resurrect springs past last week, I managed to dig up my first recipe for creme brulee — six varieties, torn out of the back of a Gourmet magazine. It's yellowed now, torn in several places and stiff with the splashing of countless egg whites separated with varying degrees of skill.
I also went hunting for some record of an excess of cream in my diary that year (let's boldly not say what year it was), only to be greeted with a chronicle of excess of my own: Did I really spend three hours after work each day making dinner for myself? Did I really go out dancing for another three hours, nearly every night? Didn't I have anything to do?
The voice of my 8-year-old son brought me back to reality. His favorite part of creme brulee, he was saying, is cracking the sugar crust. "Not the propane torch?" I remark in surprise, adding, "I suppose it's one of your top three favorite desserts." "No," he corrects me, listing them: lavender lemon bars, chocolate orange rinds, apple pie. I may think of cream as the very symbol of irresistible excess, but for Noah, it's what he thinks of as, well, perfectly adequate.
Mothers and sons, I presume, will always disagree on what is sweetest in life. But still, I dare to hope that someday, he too will stumble on the lesson of real cream: Once in a while, too much of a good thing turns out to be exactly enough.
Cardamom Creme Brulee
I love the way that cardamom, sometimes called the "queen of spices," lends its sweet, gingery elegance to the cream. You can crush the pods in a mortar and pestle, or just crush them on a cutting board with the flat side of a chef's knife.
Makes 8 individual servings
3/4 cup granulated sugar
3 cups heavy cream
12 cardamom pods, crushed
6 large egg yolks
1 large whole egg
1/4 cup firmly packed turbinado sugar ("Sugar In The Raw") for caramelizing
Preheat the oven to 325 degrees. Place a rack in the center of the oven.
Place eight 1/2-cup ramekins in a baking pan that's at least a half-inch deeper than the ramekins.
Scatter the granulated sugar in the bottom of a heavy saucepan (it will help keep the cream from scorching). Add the heavy cream and the crushed cardamom pods and bring just to a simmer, whisking occasionally. Remove from heat, cover and let steep for 15 minutes.
While the cream is steeping, whisk the yolks and egg together in a large mixing bowl. Fill a tea kettle with about a quart of water and bring to a boil.
Gently whisk the cream into the egg yolks. Strain the mixture into another bowl, and then carefully tip the mixture into a large measuring cup (or other container with a pouring spout). Divide the mixture equally among the ramekins.
Carefully pour hot water from the kettle into the baking pan until it reaches halfway up the sides of the ramekins. Gently slide the baking pan onto the center rack of the oven. Bake 40 to 50 minutes, until they are just set. Take out one ramekin and shake it gently side to side; it should jiggle uniformly. Cover the custards with plastic wrap and chill for 6 hours or overnight.
Shortly before you're ready to serve, uncover each custard and scatter about 1 teaspoon of raw sugar as evenly as you can over the surface. (If you're not using a metal table or other fireproof surface, you can place the ramekins on a foil-covered cooling rack so that nothing catches fire.) Ignite a propane or butane torch and pass the flame back and forth over the sugar coating, 6 to 8 inches away from the surface. (If you don't have a butane torch, preheat the broiler, position the cream 2 to 4 inches from the heat and watch carefully.) You'll see the sugar start to melt, bubble and brown. As soon as it has reached a golden-brown caramel color, remove from heat.
Place the finished creme brulees briefly in the refrigerator to cool back down; the caramel will become brittle and hard. They can stay there up to 45 minutes — after that, the sugar begins to dissolve back into the custard. Serve.
Jasmine Rice Pudding With Fresh Berries
It's hard to get reputable pistachios because of the recent nut scare, so I'm omitting them these days. But once it blows over, I'm going to go right back to using them, because they're delightful in this recipe, which is from Zov by Zov Karamardian (Zov's Publishing 2005). Warning: I have never once made this recipe without having to eat several spoonfuls right out of the pot while it's cooking. It's just that good.
Makes 8 servings
2 cups water
1 cup uncooked jasmine rice
4 cups whole or low-fat milk
2 cups heavy cream
3/4 cup sugar
1 vanilla bean, split lengthwise
2 cups assorted fresh berries (raspberries, blueberries, blackberries, sliced strawberries)
1/2 cup shelled raw pistachios (optional)
Combine water and rice in a large, heavy-based pot. Bring the water to a boil over medium-high heat. Cover, lower the heat and simmer until the rice is tender and the water has been absorbed, about 12 minutes.
Stir in the milk, cream and sugar. Scrape the seeds from the vanilla bean into the rice mixture, then add the bean as well. Bring to a simmer and continue cooking over low heat, stirring often, until the mixture thickens slightly, about 35 minutes. (The mixture will look like cooked oatmeal when finished.) Remove the vanilla bean.
Pour the hot pudding into a large bowl and immediately cover it with plastic wrap so it doesn't form a skin. Refrigerate at least 6 hours or overnight, until thoroughly chilled.
Spoon berries over the pudding. Sprinkle pistachios, if using, and serve.
Chocolate Cream Puffs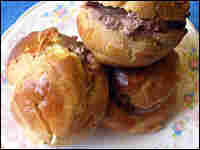 I find cream puffs impossible to resist. They're light and adorable, but at the same time hopelessly decadent. The puff batter is easy to make once you get the hang of it, and the cream puffs can be made ahead and frozen. The chocolate whipped cream is best the same day, which is just as well since you won't be able to stop yourself from eating it anyway. The cream puff recipe is fromThe Essential Baker by Carole Bloom (Wiley 2007), and the chocolate cream is from Baking and Pastry by The Culinary Institute of America (Wiley 2009).
Makes 2 to 3 dozen, depending on size
2/3 cup water
1 stick unsalted butter, cut into small pieces
1/3 cup whole or 2 percent milk
1 tablespoon granulated sugar
1/4 teaspoon salt
1 cup all-purpose flour, sifted
4 extra-large eggs, at room temperature
Egg Wash
1 extra-large egg
1 teaspoon milk
Preheat the oven to 425 degrees.
Place the water, butter, milk, sugar and salt in a saucepan. Bring to a boil over medium-high heat.
Remove the sauce from heat and add the flour all at once. Stir vigorously with a wooden spoon until the dough pulls away from the sides of the pan. Return the saucepan to medium heat and cook for 3 minutes, stirring vigorously, until the dough is smooth.
Transfer the dough to the bowl of a stand mixer. Using the paddle attachment, beat the dough on medium speed for about 3 minutes to release the heat and steam. (If you don't have a stand mixer or a paddle attachment, you can do all of this with a mixing bowl, a wooden spoon and some elbow grease — that's how I used to make them.)
Beat the four eggs lightly with a fork in a small bowl. Add one-quarter of the mixture at a time to the dough, mixing thoroughly after each addition and scraping down the sides of the bowl. Mix until smooth and glossy, about a minute.
Fit a pastry bag with a plain round tip and fill partway with the dough. Holding the pastry bag straight up and down and 1 inch above the baking sheet, pipe out mounds about 2 inches wide and 3/4 inch high, with 2 inches of space between each.
Lightly beat the egg and milk together in a small bowl with a fork. With a pastry brush, lightly brush the top of each mound with the egg wash, being careful not to let any egg wash run under the dough (wipe it up if it does).
Bake for 15 minutes. Reduce the temperature to 375, rotate the trays, and bake another 15 to 20 minutes, or until golden.
Remove the puffs. With a small sharp knife, cut a small horizontal slit in the side of each puff to release steam. Return the puffs to the oven, turn off the heat, and let them dry in the oven for about 30 to 45 minutes. Cool completely on racks.
Chocolate Whipped Cream
4 ounces semisweet or bittersweet chocolate, finely chopped
1 tablespoon vegetable oil
1 1/2 cups heavy cream
Melt the chocolate over a double boiler and combine with the oil, mixing well.
Add all the cream at once into the bowl of a stand mixer fitted with the whisk attachment (Alternatively, you can use a rotary egg beater). Whisk at medium-high speed until soft peaks form that barely hold their shape, 3 to 5 minutes depending on the cream.
Add 1/4 of the whipped cream to the chocolate mixture and whisk until fully incorporated.
Add half of the remainder of the whipped cream and stir, keeping a marble appearance in the mixture.
Add the rest of the whipped cream and stir, keeping a marble appearance in the mixture.
Fit a clean pastry bag with a clean round tip. Fill the pastry bag partway with the chocolate cream.
Use a serrated knife to cut each puff in half horizontally. Pipe a mound of cream into the center of each cream puff.
Coffee Bavarian
My stepmother used to make a melt-in-your-mouth coffee Bavarian. I remember her gingerly tipping it out of the mold and praying it would keep its shape. I don't lose sleep over the structural integrity of Bavarians. I just scoop it out of whatever container it's in and mindlessly devour it. (Note: Gelatin is tricky to work with, so work quickly but carefully. Whatever you do, don't shock it with cold, or it'll set into clumps instantly. Ease it into the right temperature. Quickly.)
Makes 8 servings
1 1/2 tablespoons powdered gelatin
1/2 cup water
2 cups heavy cream
2 cups creme anglaise (recipe follows)
Coffee Creme Anglaise
1 tablespoon instant espresso powder
1/2 cup plus 2 tablespoons whole or 2 percent milk
1/2 cup plus 2 tablespoons heavy cream
5/8 cup granulated sugar
1/4 teaspoon salt
3 egg yolks
For The Coffee Creme Anglaise
Dissolve the espresso powder in the milk. Then combine the milk, cream, sugar and salt in a heavy saucepan and bring to a simmer, stirring to dissolve the sugar.
Meanwhile, beat the yolks by hand. Then beat about 1/3 of the simmering milk mixture into the yolks. Return this yolk mixture to the saucepan with the rest of the milk mixture and cook gently, whisking, for about 30 seconds, until thickened. Remove from heat. Strain into a second bowl.
For The Bavarian
Place the gelatin in a small metal bowl with the water and stir to combine. Place the bowl over a small saucepan of simmering water and heat until the gelatin dissolves.
Meanwhile, prepare an ice bath by half-filling a large mixing bowl with cold water, then adding a dozen ice cubes. If you don't have a large bowl, you can stopper the kitchen sink and make the ice bath there.
Stir the dissolved gelatin into the creme anglaise and cool over an ice bath, stirring constantly, until it starts to thicken. (If you don't stir constantly, you may get a thick layer of gel on the bottom.) Remove from the ice bath when the custard is room temperature or just a little cooler.
Meanwhile, whip the cream to soft peaks. Blend one-quarter of the whipped cream into the thickened creme anglaise. Then fold this mixture into the remainder of the whipped cream.
Pour into molds or a decorative serving container (say, a cut-glass bowl or a large enamel ramekin), cover and refrigerate until set.