Foreign Policy: Planet Holbrooke And Envoy Nation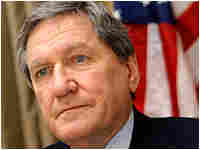 Richard Holbrooke, the special representative to Afghanistan and Pakistan, has had to reschedule planned appearances on U.S. policy toward Pakistan before the Senate and House Foreign Affairs committees that were slated to be held this week, and will now be held next. Unidentified conflicts apparently came up.
No one on the Hill has any reason to think Holbrooke is not eager to testify. On the contrary.
But Holbrooke exemplifies the degree to which Obama's special envoys operate in a parallel diplomatic network. For instance, Holbrooke has let it be known, Hill sources say, that he doesn't require the services of the State Department's legislative affairs shop, thank you very much, to manage his Hill relations. He and his deputy Paul Jones will handle his dealings with Congress.
Some Congressional staff have expressed frustration that Holbrooke is briefing members of Congress while bypassing staff briefings. In so doing, he can get credit for briefing Congress, while avoiding the pesky, detailed questions that staff are likely to pose, as well as establish an institutional record of what is being said.
And just who is on Holbrooke's staff anyhow? And whom do you call to find out?
Again, it's not so straightforward. The State Department press shop says it's not sure. Holbrooke seems to be operating somewhat independently of the department apparatus altogether.
But there are some clues. Among those sources have established are working for Holbrooke: assistant Ashley Bommer, whom he brought to State from the Perseus Group, and who is heading up AfPak strategic communications; Foreign Service veteran and former Holbrooke aide in the European bureau Rosemary Pauli, who is serving as Holbrooke's chief of staff, the aforementioned Paul Jones, a former deputy chief of mission at the U.S. embassy in the Philippines, who is serving as Holbrooke's deputy representative as well as being "double hatted" as deputy assistant secretary of state for South Asian affairs, Fletcher professor and Shiism expert Vali Nasr, New York University's Barnett Rubin, who sources say has been consulting for Holbrooke on a part-time basis, and Jared Cohen, a State Department rising star who recently traveled to Afghanistan to do strategic communications planning, and who previously worked for James Glassman in the State Department's public diplomacy shop.
Sources told The Cable today that the latest to move into Holbrooke's empire is Vikram Singh, a former fellow at the Center for a New American Security who has been serving as a special advisor on South Asia to Michèle Flournoy, the undersecretary of defense for policy. Singh did not immediately respond to a query.
Scant clues to the size of envoy nation can be found in the State Department/USAID's $7.15 billion supplemental FY'09 budget request to Congress. There, on page 19, one short paragraph announces the following:
"Office of the Secretary: $8.5 million
In order to be successful in its efforts to take on new and expanded responsibilities in this new era of diplomacy, the Department must have adequate resources to support new policy positions. The requested funding will support the new Deputy Secretary of State for Resources and Management, the Special Representative to Afghanistan and Pakistan, the Special Envoy to the Middle East, the Special Envoy for Climate Change, the Special Envoy for North Korea, and the U.S. Ambassador to the United Nations, a cabinet-level position. These funds will support 65 domestic positions including IT equipment and communications equipment."
So, that's $8.5 million for 65 positions — outside hires, plus equipment — to support Holbrooke, Deputy Secretary of State Jack Lew, special envoy to the Middle East George Mitchell, special envoy for climate change Todd Stern, special envoy for North Korea Stephen Bosworth, and U.S. ambassador to the United Nations Susan Rice. (Strangely, Dennis Ross, the U.S. envoy on the Persian Gulf and southwest Asia, who is said to have at least eight people working for him, including Ben Fishman, Ray Takeyh, Alex Deghan, and several Foreign Service detailees, does not seem to be included in the above budget request justification list.)
The Washington Post's Al Kamen reported Monday that Holbrooke has 20 people working for him, Ross 8, Stern, 6, and Mitchell also a handful, including former Pentagon and State Department official Fred Hof, Gen. Keith Dayton who has been heading up U.S. efforts to bolster Palestinian security capabilities, and Deputy Assistant Secretary of State for Near Eastern Affairs David Hale, who is serving as Mitchell's deputy and is slated to be based in the Middle East for Mitchell later this summer. The NSC's Mara Rudman, who has traveled with Mitchell on two of his three trips to the region so far, is also thought likely to join Mitchell's team, either as his chief of staff or as one of his deputies. She didn't respond to a previous query.
The Cable previously reported that former John Edwards deputy campaign manager Jonathan Prince is director of strategic communications for all the special envoys and representatives.