Local Militias Help Pakistani Army Fight Taliban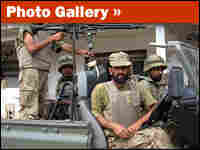 Pakistan's government has ordered an all-out assault against the Taliban in the rugged region known as the Federally Administered Tribal Areas, on the border with Afghanistan. It is an extension of a broader offensive against militants in the Swat Valley and surrounding districts that is now in its eighth week. NPR's Julie McCarthy, traveling with the Pakistani army, filed this report Monday.
The landscape of Lower Dir, one of 24 districts in Pakistan's North-West Frontier Province, provides a clue into how the militants maneuver in this place where even the mighty 17th century Mogul emperors struggled to bring local tribesmen in line.
The rushing Panjkora River cuts deep ravines into the cliffs of Dir, tucked between the Swat Valley and the tribal belt of the Afghan border. Beige foothills give way to fir-covered mountains — a setting of stunning beauty and many hiding places. Militants can easily melt away by day. But the army's hunt for them continues through the night.
On a recent night, artillery batteries positioned at the headquarters of the Dir Scouts in the central town of Timergara fire on the village of Kumbar, about 15 miles to the north. The army says the militants set up a training camp in the forest above the village.
Targeting The Taliban Takes A Toll
Pakistani military experts acknowledge that the artillery is not intended as a precision weapon. Daylight bears that out.
Under army escort the next day, a convoy of some 12 vehicles carrying soldiers and journalists rumbles through the ruined and abandoned streets of Kumbar and its bazaar. The buildings are blackened by fire and pockmarked by artillery and mortar shells.
Some houses on the hilltops resemble dollhouses, their interiors exposed after entire walls were knocked out by the artillery blasts. Other homes are totally destroyed. Pakistan authorities say this had been a redoubt for the Taliban.
Troops frisk the few civilians who have braved the streets, as other heavily armed soldiers nervously scan the area they say is besieged by snipers. Families displaced by the fighting wait for the curfew to be lifted so that they can come back to collect what is left of their lives — a refrigerator, the odd bed, crops that are going to seed.
Abdul Rehman has returned for bedding. He says his family took shelter with a friend after fleeing the fighting.
"The government is firing mortar shells indiscriminately .... And I myself was at home, and 14 mortar shells hit the areas around me. So that's why we had to move out," he says. "We don't want anything. We just want to have our country back, our land back."
The army has insisted from the start that it has used maximum restraint in its offensive.
Capt. Nazer Iqbal says Pakistan's army is also anxious to help the estimated 400,000 civilians driven from Lower Dir return to their homes. He says weeks of bombardment have degraded the Taliban's forces.
"They have fled. Most of them have fled. They are running short of ammunition. They are running short of their supplies. We have guessed that their number is not more than 50," Iqbal says.
But Iqbal warns that the battle in Lower Dir is far from over. Fighting on Monday left nine militants and one security officer dead.
Local Militia Wages Its Own War Against Taliban
A battle of another sort rages in the neighboring district of Upper Dir. Four hours up a mountain road full of hairpin curves is Doog Darra, an impoverished area enriched only by its scenery. Snowcapped peaks loom in the distance. A latticework of tree limbs and stones serves for houses.
Here the flinty tribes of Upper Dir have captured and killed members of the Taliban — by themselves.
Sirraj Uddin is an elder who helped 500 residents organize into a local militia, or lashkar, to fight the militants. He says the village gave the Taliban a chance to negotiate a peaceful settlement, but that time is past.
"We gave them a chance for six months. We sent them respected religious scholars, respected elders ... But we've never seen more deviant people than these militants, and any advice to them fell on deaf ears," Uddin says.
The militia laid siege to Taliban strongholds after a suicide bomber destroyed a mosque here 10 days ago. Some 30 people were killed, many of them children.
Lashkar member Mohammad Sadiq brandishes an AK-47 as he patrols the hills.
"We will fight the Taliban with whatever strength we have. If we kill them, it is OK. Because otherwise, they will kill us," Sadiq says.
Had more people taken up arms against the Taliban, he says, Pakistan would not be fighting to wrest back territory from extremists. "There would no need for any military operation anywhere if other people had done this," Sadiq says.
The muffled sound of mortar shells is heard just over the ridge where the militia is pounding militants whom local authorities say are cornered.
The army has assisted the lashkar with ammunition and airborne raids.
An Effective Local Force, And One To Be Feared?
District Chief of Police Ijaz Ahmed says the local militia's achievement against the Taliban goes well beyond the borders of Upper Dir.
"It gives the whole of the nation and the whole of the people of Pakistan an encouragement that these people shouldn't be feared. They can be faced even locally, and once you stand up against these people, then they are no match to the local people," Ahmed says.
Retired Gen. Talat Masood says they are a valuable force multiplier. But he says they pose dangers all of their own unless their assignment is temporary.
"You should not give them any permanence whatsoever, because that could turn very dangerous and may result in warlordism. Because then they will realize, these lashkars and whosoever is leading them, that they can also assert power through the barrel of the gun," Masood says.
Pakistan's constitution bans private armies. But the operational commander in Lower Dir, Brig. Amal Zada, says lashkars now would seem to constitute an exception.
"At this moment there is no normal situation in our country," he says. "So I think if the lashkar is doing their job and helping us, we must encourage them. Because otherwise the same job would have been done by the army itself."