Obama, Medvedev Agree To Cut Nukes
President Obama and his Russian counterpart, Dmitry Medvedev, laid out a plan to reduce the number of U.S. and Russian nuclear weapons. The "joint understanding" is intended to lead to a new strategic weapons treaty by the end of the year.
MELISSA BLOCK, host:
This is ALL THINGS CONSIDERED from NPR News. I'm Melissa Block.
ROBERT SIEGEL, host:
And I'm Robert Siegel.
President Obama and his Russian counterpart announced a tentative agreement today to reduce their country's nuclear weapons by nearly 25 percent. Arms control was a central topic on the first day of the president's weeklong foreign trip. The president's visit is also a chance to reset relations with Russia, which have been strained. From Moscow, NPR's Scott Horsley reports.
SCOTT HORSLEY: The U.S. and Russia have the vast majority of the world's nuclear weapons, more than 4,400 warheads between them. For President Obama, who's set a long-range goal of a world free of nuclear weapons, reigning in those arsenals is a way for the former cold warriors to take the lead.
President BARACK OBAMA: It is very difficult for us to exert that leadership unless we are showing ourselves willing to deal with our own nuclear stockpiles in a more rational way.
HORSLEY: Under the joint understanding announced today, both the U.S. and Russia would commit to reducing their warheads and the means of delivering them over the next seven years. There's still a lot of details to work out, but both sides would like to have an agreement by the time the START Treaty expires in December. The two presidents also agreed to work cooperatively on the sensitive subject of defensive weapons. Russia was alarmed by former President Bush's plan to build a missile defense system in Europe. The Obama administration has said that it won't trade that system away for an arms control deal. But he has agreed to at least talk about the issue and that's encouraging to Russian President Dmitry Medvedev, speaking here through an interpreter.
President DMITRY MEDVEDEV (Russia): (Through Translator) Some time ago on this question we had only differences. Now this linkage is being stated and this opens up the opportunity of bringing positions closer to each other.
HORSLEY: U.S. plans for missile defense are still undergoing a technical review. And the Obama administration seems less gung ho about the program than President Bush was. Rather than abandon missile defense, though, Obama advisor Gary Seymour says the U.S. hopes to persuade the Russians its plans are nothing to fear.
Mr. GARY SEYMOUR (U.S. Presidential Advisor): Our missile defense system is designed to deal with countries like North Korea and Iran, which will have a very small number, I mean less than a dozen, you know, launchers and warheads.
HORSLEY: Even with the new treaty Russia would have more than 100 times that many. The two presidents also formalized an agreement today to let U.S. troops and war material move through Russia on the way to Afghanistan. They agreed to cooperate on medical matters like swine flu, and they'll resume military cooperation that had been on hold since last summer. The two men used terms like professional and business-like to describe their relationship working together when their interests align and speaking frankly when they disagree. Their disagreements include the former Soviet Republic of Georgia, which fought a war with Russia last year. Mr. Obama said Georgia's sovereignty must be respected.
Pres. OBAMA: And even as we work through our disagreements on Georgia's borders, we do agree that no one has an interest in renewed military conflict. And going forward we must speak candidly to resolve these differences peacefully and constructively.
(Soundbite of music)
HORSLEY: Earlier today, Mr. Obama took part in a somber wreath-laying at Moscow's Tomb of the Unknown Soldier, a reminder of the last great war in which the U.S. and Russia fought on the same side. As he told reporters today, he's also reaching out to ordinary Russians during this visit. He meets tomorrow with business people, non-profit organizers and opposition leaders.
Pres. OBAMA: The United States and Russia have more in common than they have differences and if we work hard during these next few days that we can make extraordinary progress that will benefit the people of both countries.
HORSLEY: Mr. Obama also holds a breakfast meeting tomorrow with Russian Prime Minister Vladimir Putin, a man he says still has one foot stuck in the old way of doing business. Scott Horsley, NPR News, Moscow.
NPR transcripts are created on a rush deadline by Verb8tm, Inc., an NPR contractor, and produced using a proprietary transcription process developed with NPR. This text may not be in its final form and may be updated or revised in the future. Accuracy and availability may vary. The authoritative record of NPR's programming is the audio record.
U.S., Russia Agree To Pursue Nuclear Reduction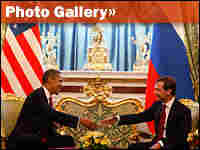 President Obama and Russian leader Dmitry Medvedev agreed in principle Monday to reduce their permitted nuclear arsenals by nearly a third during a Moscow summit to try to ease tensions between the former Cold War rival nations.
Obama, attending his first U.S.-Russia summit, said he and Medvedev were "committed to leaving behind the suspicions of the past" and repairing relations that have "suffered a sense of drift" in recent years.
The tentative nuclear accord is intended to serve as a follow-up to the Strategic Arms Reduction Treaty, which is set to expire Dec. 5. START was signed in 1991, just five months after the collapse of the Soviet Union and nearly a decade after it was first proposed by President Reagan.
Medvedev called the framework arms control agreement — which would reduce the number of nuclear warheads allowed to between 1,500 and 1,675 from the 2,200 under START and cut the number of ballistic missiles to between 500 and 1,100 from an upper limit of 1,600 — a "very important ... reasonable compromise."
Between them, the United States and Russia possess more than 90 percent of the world's nuclear weapons. The new caps on nuclear arsenals would need to be fully implemented by 2012.
A White House statement said the new treaty "will include effective verification measures," and Obama said it would be completed by the end of the year.
Washington and Moscow also pledged to "broaden and deepen long-term cooperation to further increase the level of security of nuclear facilities around the world, including through minimization of the use of highly-enriched uranium in civilian applications and through consolidation and conversion of nuclear materials," according to a joint statement.
Among the deals meant to sweeten Obama's two days of talks here and show progress toward resetting badly damaged U.S.-Russian relations was permission from Moscow for the United States to transport arms across its land and airspace into Afghanistan for the war there. The White House says the deal will save the United States $133 million a year, by waiving transit fees and shortening flying time.
Other side deals included the resumption of military cooperation, suspended after Russia invaded neighboring Georgia last August and sent relations into a nosedive.
Although the invasion strained U.S.-Russian ties, Obama said Monday that whatever the differences over Moscow's military move, "no one has an interest in renewed conflict."
The two leaders also announced an agreement to form a new joint commission to try to account for missing service members of both countries from World War II, the Korean War, the Vietnam War and the Cold War, as well as Soviet military personnel still missing from Moscow's 10-year occupation of Afghanistan.
At a joint news conference held in an ornate hall at the Kremlin, Medvedev described his meeting with Obama as "a very useful, businesslike discussion" but said the task before the two leaders was "not easy because the backlog of problems is quite impressive."
That backlog includes such thorny issues as NATO plans to expand into former Soviet satellites and the U.S. pursuit of a missile defense shield in Europe, both of which have angered Moscow.
The two sides remain stalemated over the planned U.S. missile-defense system, pushed hard by Bush and under review by Obama. Both sides hardened their positions ahead of the summit. The U.S. contends its program is designed to protect U.S. allies in Europe from a potential nuclear attack by Iran, but Russia sees a shield as a first step toward a system that could weaken its offensive nuclear strike potential.
Obama has previously said he would not accept any linkage between the missile shield and nuclear arms reduction, but there were signs that stance was being softened. "Any discussion of nuclear strategy, security has to include defensive as well as offensive capabilities," he said.
The U.S. president reiterated that the missile-defense system was aimed at stopping a rogue attack from Iran "or some other state" and that "there is no scenario from our perspective that would provide any protection against a mighty Russian arsenal."
Medvedev said the issue was a difficult subject but asserted that "the linkage between offensive and defensive weapons is already being made. Now this linkage is being stated and brings in the possibility of compromise."
The U.S. president was set to meet with Prime Minister Vladimir Putin on Tuesday.
Asked who holds the real power in Russia — Medvedev or his powerful predecessor and mentor, Putin — Obama demurred: "My understanding is, President Medvedev is the president ... and Prime Minister Putin is the prime minister."
The Moscow summit starts a weeklong trip for Obama that also features G-8 meetings, a visit with the pope in Italy and a speech in Ghana.
Popular across much of Europe, Obama faces a far more skeptical population in Russia.
A poll released Sunday found that only 23 percent of Russians surveyed have confidence that Obama will do the right thing in international affairs. The University of Maryland's WorldPublicOpinion.org reported that just 15 percent of those polled said the U.S. is playing a positive role in the world; most said the United States abuses its power.
From NPR staff and wire reports