White Rabbits: Adventurous Pop
White Rabbits: Adventurous Pop
White Rabbits: Adventurous Pop
White Rabbits: Adventurous Pop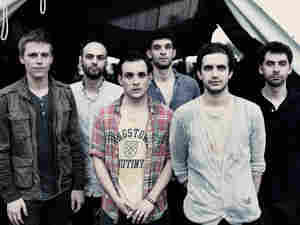 Set List
"Rudie Fails"
"They Done Wrong/We Done Wrong"
"Percussion Gun"
Since the 2007 release of Fort Nightly, White Rabbits' members have developed a reputation for energetic indie-rock. Touring with a series of bands such as The Walkmen and Spoon, the group captivated audiences across the country with its lively performances.
Intense rhythms and sweeping, melodic choruses typify White Rabbits' catchy and at times sinister sound — a blend of rock, reggae and ska the members describe as "honky-tonk calypso." They intertwine tinkling piano riffs and heavy-handed guitars, transforming straight-ahead pop hooks into something more adventurous. Two years after the release of Fort Nightly, White Rabbits just released It's Frightening, produced by former tourmate Britt Daniel of Spoon. In this interview with World Cafe, the band members discuss how Daniel became producer due to a fortunately misplaced text message.
Note: This segment originally ran on 7/10/09