Blix: U.S. Should Practice What It Preaches on Nukes
On the Web
Read Hans Blix's Article in 'Boston Review:'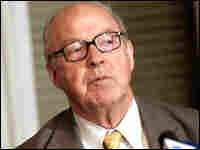 In the current issue of Boston Review, former chief U.N. weapons inspector Hans Blix argues that it might be easier to persuade Iran to suspend its uranium enrichment program if the United States would do the same. Blix also urges several other measures to stem the proliferation of nuclear weapons.
In his former U.N. role, Blix led the search for weapons of mass destruction in Iraq before the U.S. invasion in 2003. Since then, he has been chair of the Swedish government's Weapons of Mass Destruction Commission.
Blix discusses proliferation issues with John Ydstie.