First Test For Japan's New Ruling Party: The Economy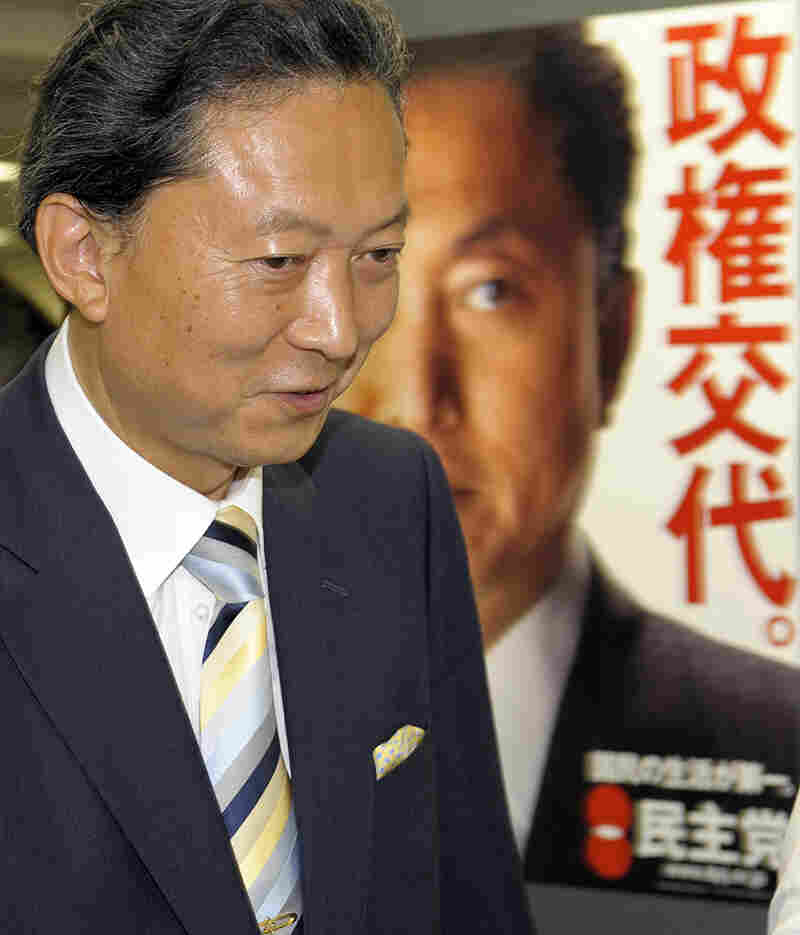 Toshifumi Kitamura/AFP/Getty Images
Japan's likely next prime minister, Yukio Hatoyama, was in talks Monday to form a new government a day after his party's historic upset of the long-ruling Liberal Democratic Party.
Hatoyama said he will make choosing a finance minister a priority, signaling his party's focus on reviving the world's second-largest economy.
In Sunday's poll, Hatoyama's center-left Democratic Party of Japan, or DPJ, trounced the LDP, which has governed the country almost uninterrupted from more than half a century. The DPJ won 308 of the 480 parliamentary seats up for grabs, handing it a huge mandate.
At his first news conference on Monday, Hatoyama spoke soberly of his party's victory.
"We fought this election to change the regime, in order to change politics," he told reporters. "We won but we shouldn't be too proud or arrogant. We should make sure this is the people's victory."
The result leaves Japan in uncharted waters. Now the DPJ — which controlled the less powerful upper house of parliament with the help of two smaller parties — must figure out how to deliver on promises of free schooling, a better social safety net and a $260 allowance for every child each month. The pledges will eventually cost around $177 billion annually.
The DPJ has said it plans to cut waste and rely on untapped financial reserves to fund programs. But with Japan's public debt heading toward 200 percent of gross domestic product, the plan has been criticized as a financial fantasy that would worsen Japan's precarious fiscal health.
"At the top of the list comes how do you pay for the programs that they say they want to implement, without blowing the lid off what's already a heavily debt-ridden system," says Gerald Curtis, a professor at Columbia University. "To do that, they have to reduce other programs, and [they] are going to run into all kinds of vested interests that are going to fight like crazy."
At the headquarters of the ruling LDP, a line of party heavyweights faced the press, bowed and weary from defeat as current Prime Minister Taro Aso announced his resignation, calling the election result "very severe."
"But I believe it is the judgment of the public, and we will have to accept that sincerely," Aso said.
The LDP's defeat is seen largely as frustration with the nation's economy, which is in its worst slump since World War II. Japan managed to climb out of a yearlong recession in the second quarter, but its economy remains weak.
But despite the landslide win, most voters were seen as venting dissatisfaction with the LDP and the status quo. The pro-U.S. LDP has aligned with big business, conservative interests and the powerful national bureaucracy to retain power for virtually all of the past 54 years.
Hatoyama has been vocal about distancing Japan from Washington and forging closer ties with its Asian neighbors. He has said he will end a refueling mission in the Indian Ocean in support of U.S.-led coalition forces in Afghanistan, and wants to review the role of the 50,000 U.S. troops stationed across Japan under a post-World War II mutual security treaty.
Tobias Harris, a Ph.D. student in political science at MIT who follows developments in Japan, believes the newly elected Democratic Party of Japan will initially "focus a lot of attention" on changing the balance of power between politicians and bureaucrats.
"I think they're actually well-placed," he said. "Part of the reason is the public is frustrated with bureaucratic rule, so the idea of politicians actually being able to decide how public money is spent will get a lot of public support."
But others are not so sure. Columbia's Curtis says that simply declaring war on the bureaucracy is not the right strategy. With 114 political novices in their ranks, the incoming ruling party is going to need all the help it can get, he says.
"If they succeed in breaking the bureaucracy, they will succeed in making this country ungovernable," Curtis said, adding, "You can't rule without using the expertise and the administrative skill of bureaucrats."
In apparent response to the election, Japan's stock market surged early Monday but then fell back — indicating uncertainty among investors about what the Democratic Party of Japan will bring.
NPR's Scott Neuman contributed to this report.