Fighting Gentrification With Money In Houston
The skyscrapers of downtown Houston are plainly visible from the city's Third Ward.
That's why developers have begun building upscale townhomes here. It's central-city living, with an easy commute downtown. To an outsider, that construction may look like signs of revival in a run-down neighborhood.
State Rep. Garnet Coleman doesn't see it that way at all.
Coleman represents the Third Ward, much of which was historically a black section of segregated Houston.
Hide caption

In recent years, developers and activists have battled over gentrifying and preserving the historic Third Ward. Here, the Houston skyline can be seen from a row of shotgun houses on the north end of the Third Ward.

All photos by Blake Gordon/Aurora Photos for NPR

Hide caption

LaToya "Journey" Allen stands on the porch of the new duplex home she rents in the Third Ward. Hoping to keep upscale developers away, local leaders bought land and built new rental homes like this one instead.

Hide caption

A building project sits abandoned in the northwest area of the ward.

Hide caption

Highway 59/Highway 288 cuts through the Third Ward and serves as its western border.

Hide caption

New town houses are for sale on the west side of the Third Ward.

Hide caption

Third Ward activists are concerned that rapid development will radically alter the sense of community and history that has grown over a century.

Hide caption

An abandoned house remains standing in a redeveloped area on the western edge of the Third Ward.

Hide caption

"Shotgun houses" were built with all the rooms in a row, so that breezes could pass through and take the edge off the Texas heat.

Hide caption

A mural proclaiming the need for rebuilding the city stands in front of a series of shotgun houses in the Third Ward.

Hide caption

During the 1960s and '70s, the Third Ward lost much of its economic traffic because of racial integration and the move of many African-Americans to the suburbs. Here, a beauty salon attached to a house displays a "help wanted" sign in the window.

Hide caption

The Third Ward Community Bike Shop is helping to improve the area by offering do-it-yourself bike repair facilities and youth programs.

Hide caption

Although the Third Ward is characterized by shotgun houses, the architecture shifts to brick structures south of Alabama Street.

Hide caption

The historic St. John Missionary Baptist Church dates back to 1889.

Hide caption

Dowling Street is the hub of the Third Ward, but has experienced economic decline since the racial integration of Houston in the 1960s and 1970s. Here, an abandoned building can be seen off Dowling Street.

Hide caption

Successful businesses, like Wolf's Department Store & Pawn shop, can still be found on Dowling Street.

Hide caption

Emancipation Park, located off Dowling Street, was the only municipal park that African-Americans could access while the city was segregated. It still serves as a place where Houstonians celebrate Juneteenth, a holiday commemorating the end of slavery.

Hide caption

The contrast between downtown Houston and the Third Ward can be seen from a deserted street at night.
Riding through the neighborhood, Coleman points out landmarks like Emancipation Park, established in 1918 — a legacy of a time when black residents needed a place of their own to enjoy the outdoors.
To Coleman, the addition of new townhomes and small gated enclaves does not look like progress.
"You displace people by price," Coleman said, "because their incomes are historically lower, if you're African-American."
Mapping A City's Growth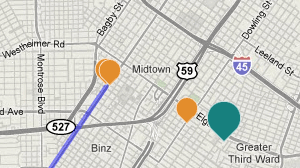 Click on the map to see Steve Inskeep's reports from Houston and where they took place.
Listing recent challenges that historically black neighborhoods such as New York City's Harlem, Washington, D.C.'s Shaw neighborhood and southwest Atlanta have faced, Coleman said, "I don't want somebody playing Monopoly with my neighborhood. I just don't think that I can stand for that."
Generations of African-Americans — whether laborers or doctors, maids or professors — lived in this area's wooden shotgun houses, long narrow homes designed to carry a breeze from room to room.
Coleman, the son of a Third Ward physician, is convinced that most of the residents of the new townhomes are likely to be affluent and white. And he was not ready for the poorer residents of this area, many of them renters, to be squeezed out.
"I'm an egalitarian like everybody else," Coleman said, "and talking about the racial aspect of this, or saying this is born of race, is not something I feel absolutely comfortable with."
He noted that places like Philadelphia have cordoned off sections of the city, to protect Independence Hall's historical importance from being diluted by modern development.
"Why isn't culture historical?" Coleman asked.
Although many of the wooden houses now sag on their foundation blocks, and even more houses have been torn down, Coleman is determined to preserve a black neighborhood.
He is hardly the first person who struggled to keep a treasured neighborhood from changing too much. What's different is that Coleman may have found a way to succeed — by competing against developers for ownership of the Third Ward's land.
As for anyone who moves into neighborhoods like the Third Ward — and integrates what had formerly been a segregated area — Coleman says the main problem often stems from the new arrivals' attitude.
"Don't come into the community, renovate your house and then act like the people that have been living there forever have no standing," Coleman said.
"If somebody's going to move into the Third Ward — I don't care who you are — just become a part of it."