U.S., Allies Open Nuclear Talks With Iran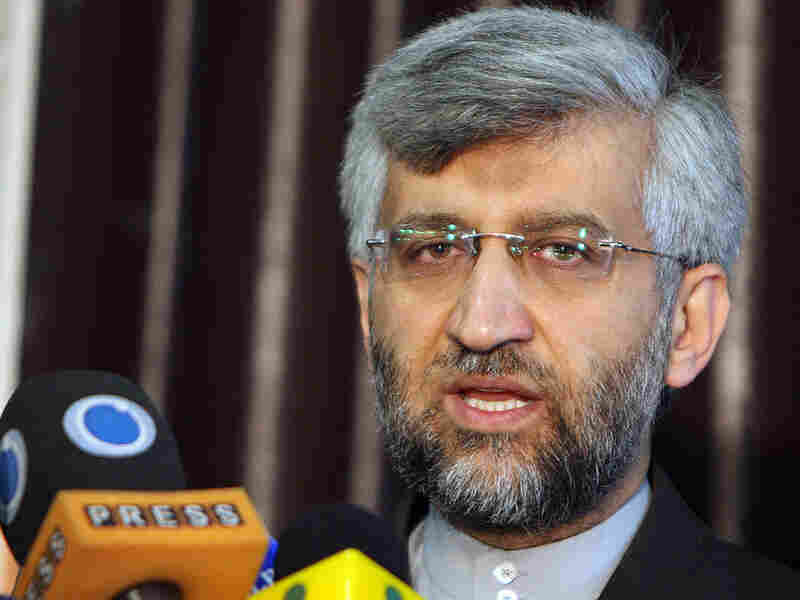 Atta Kenare/AFP/Getty Images
As diplomats from the U.S and other world powers meet with Iranian officials Thursday in Geneva, the main focus for the U.S. and its partners is Iran's nuclear program.
But the two sides could wind up talking at cross-purposes.
While the U.S. and other powers want to press Iran on its nuclear aspirations and uranium-enrichment program, Iranian officials insist that they will not discuss the issue if it veers beyond a general conversation about nuclear technology amid a host of other unrelated topics.
Diplomats from the five permanent members of the U.N. Security Council — the United States, Britain, China, France and Russia — plus Germany are meeting with Iran's top nuclear negotiator.
A senior U.S. official in Geneva called the talks the beginning of an "extraordinarily difficult process."
Heard On 'All Things Considered'
NPR's Michele Kelemen Reports On The Upcoming Meeting
Geneva Meeting To Focus On Iran Nuclear Program
State Department spokesman P.J. Crowley said Iran must be willing to address Western suspicions that it is secretly trying to develop nuclear weapons. If Iran is willing, Crowley said the Geneva talks would likely lead to subsequent meetings. If not, the U.S. and key allies could press for tighter economic sanctions against Iran.
Tensions over Iran's nuclear program rose higher last week with the revelation that Iran has been secretly building an underground plant to enrich uranium. President Obama called that facility "a direct challenge" to the nuclear non-proliferation system, and said it shows that Iran is on "a path that is going to lead to confrontation."
Iranian President Mahmoud Ahmadinejad dismissed that charge as "baseless," and repeated his government's assertions that Iran's nuclear program is for peaceful purposes only.
A Test For Both Sides
On Wednesday, Ahmadinejad said that Tehran views the upcoming talks as a "test" of the major powers' willingness to respect Iran's rights. Iranian officials have said the talks should include a wide range of issues, including the Israeli-Palestinian question and changes in the structure of the U.N. that would distribute power among more countries.
On the eve of the meeting, a senior U.S. official in Geneva said the talks will take place in a series of formal discussions interspersed with informal breaks that allow for the possibility of "sidebar conversations with the Iranians."
That doesn't necessarily mean the U.S. will talk about other issues on the side. The official, who spoke in a background briefing to reporters, said the informal talks could be "an opportunity to reinforce the main concerns that we'll be emphasizing in the meeting."
The official said the first task would be to establish whether the Iranians were really ready to engage on the nuclear issue, including "unfettered access to the Qum site, the clandestine facility," for U.N. inspectors.
"That needs to be the beginning of what the Iranians are required to do — to come clean about their entire nuclear program," the official said.
A Hard-Line Negotiator
Some analysts say Iran's choice of negotiators offers clues about how willing it will be to focus on the nuclear issue. Iran's lead negotiator is the secretary of its National Security Council, Saeed Jalili, 44, a friend and political ally of Ahmadinejad.
"Jalili is essentially an apparatchik, with no real power," say Karim Sadjadpour, an analyst at the Carnegie Endowment for International Peace. "I think the fact that they're sending Jalili makes it clear that the Iranians, again, are interested in showing up at negotiations, but they're not really interested in negotiating," Sadjadpour told NPR's Michele Kelemen.
"A lot of people like to condemn Jalili as an Ahmadinejad protege and hard to negotiate with," says Hillary Mann Leverett, a former director of Iran and Afghanistan affairs at the National Security Council. Leverett says Jalili "is probably more in line with Ahmadinejad's views, but I think he's not necessarily against a real rapprochement [with the West]."
Leverett, now the head of Stratega, a political risk consulting group, negotiated with Iranian officials from 2001 to 2003 over issues related to the Afghan war and al-Qaida, and she says they were cooperative and capable. "There's a stereotype out there that the Iranians will always lie and cheat and haggle, and there's no basis for that," she says.
Will Failed Talks Lead To Sanctions?
Some analysts predict that the talks will be unproductive and will serve as a catalyst for international sanctions against Iran.
Nicholas Burns, undersecretary of state during the Bush administration, told NPR's Steve Inskeep that he thinks "it's more likely that these talks will break down within a month or two, and that will lead to a sanctions regime in which Russia and China will be key players."
Burns, now a Harvard professor, says the government in Tehran is on the defensive because of internal political unrest and the exposure of its secret uranium-enrichment facility. As a result, he says he is not positive about the outcome of the current talks.
Burns notes that as lead negotiator on Iran between 2005 and early 2008, he was forbidden by government policy to speak officially with Iranian officials. He says that left a serious gap in U.S. knowledge about the Iranian regime.
He told Inskeep, however, that he believes the current negotiations make sense for U.S. interests, if only so that the Obama administration can tell Russia and China that the U.S. tried for a diplomatic solution before resorting to punitive sanctions.
Russia and China, which have strong economic ties to Iran, have been reluctant to impose further sanctions on the Iranian government for its defiance of U.N. resolutions on the nuclear issue.
Leverett says the Obama administration's approach is too rigidly focused on nuclear issues and sanctions. "They will be forced to change course at some point when their policy fails."
Leverett says a real engagement with Iran will take what she calls "unthinkable concessions," including a Western willingness to take part in Iran's nuclear program as a way of ensuring that it has peaceful results. She also says engagement would require the U.S. to reassess its views of organizations that Iran supports, such as Hamas and Hezbollah, and accept them as legitimate political actors in the Middle East.
Sadjadpour says that, if anything, the U.S. needs to take a tougher approach. He told NPR's Kelemen that there is a risk to U.S. engagement with the current Iranian rulers, who cracked down hard on opponents after the disputed presidential election in June.
"There is a danger that we send a message to the Iranian people that we don't care about them," Sadjadpour says. "Many Iranians are saying, 'Don't legitimize this illegitimate government.' "