Pew Survey: Discontent with Global Leaders Grows
Astakhov Dmitry/AFP/Getty Images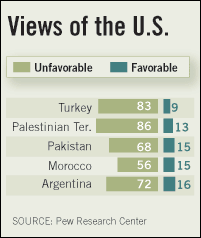 Read the Full Report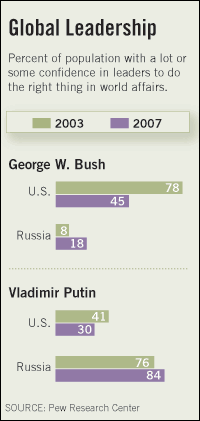 Although anti-Americanism is still extensive, the image of other world powers is falling as well, a new global opinion survey finds.
"There's not much comfort with the global powers-that-be," Andrew Kohut, president of the Pew Research Center, tells Robert Siegel.
Each year since 2002, Pew Research Center has conducted worldwide polling to gauge attitudes about the United States, other countries and issues of global concern. The results of the 2007 Pew Global Attitudes survey are based on 45,000 in-depth interviews conducted in 47 countries.
In the current survey, favorable ratings of America are lower in 26 of 33 countries for which trends are available. The image of China, too, is slipping among most advanced nations, while the survey found a mixed review of Russia.
"Specifically, [Russian President] Vladimir Putin's negative ratings have soared, and now there's as much lack of confidence in him worldwide as there is in President [George W.] Bush," Kohut says.
At the same time, Kohut points out that while people outside Russia lack confidence in Putin, the Russian leader enjoys a "great deal of capital in Russia, and even in some neighboring states," such as the Ukraine.
This stands in contrast to Bush, who receives a 45 percent approval rating from Americans, versus 84 percent for Putin among Russians.
In addition to dissatisfaction with U.S. policy on the Iraq war and Middle East policy, Kohut tells Siegel that he was surprised by the amount of respondents in Western Europe who expressed a desire to see a withdrawal of troops from Afghanistan.
"We have near majorities in France, Germany and Canada saying 'We want our troops out of there.' Of course, in the Muslim world, not only is the war in Iraq condemned, the war in Afghanistan is almost universally condemned," Kohut says, adding that each year, fewer people report supporting the U.S.-led war on terrorism.
In particular, Kohut says it's worth noting that Turkey's favorable rating of the United States has fallen dramatically in recent years. In 2000, 50 percent of survey respondents in Turkey — a country the United States has considered an ally — had a favorable view of the United States. That fell to 12 percent in 2006, and dropped to just 9 percent this year.
While the numbers for Turkey are the most dramatic in the Muslim world, support for the United States has declined elsewhere in the region, including Egypt, Jordan and Kuwait.
Kohut says another surprise in the findings was that there has not been a widening of anti-Americanism. The United States is very well regarded in Africa, for instance, and Kohut says that although the image of the United States has slipped somewhat in Latin America, modest majorities in Chile and Mexico, for instance, say they still have a favorable view of the country.
The news is not all bad for the United States, though. Kohut cites an overwhelming admiration for U.S. technology. He also says many countries responded favorably when asked about cultural exports such as TV shows and music.
The survey also reveals that many people around the world are equally uneasy with the challengers to the global status quo, such as Venezuela's President Hugo Chavez and Iran's President Mahmoud Ahmadinejad. Neither leader is particularly well-regarded in their respective regions.
Chavez has little support in Mexico, Chile or other big Latin American countries. "And quite frankly, the president of Iran scares many of his Muslim neighbors," Kohut says.
The survey also found a significant increase in the number of people who consider environmental issues to be among the top problems confronting the world. In Brazil, the percentage jumped to 49 percent in 2007 from 20 percent in 2002. And even in the United States, concern about the environment has risen to 37 percent from 23 percent in 2002.