Choppy Seas Hinder Effort To Contain Oil Spill
High winds and choppy seas frustrated efforts to hold back the oil spill seeping into Louisiana's rich fishing grounds and nesting areas Friday, and the government desperately cast about for new ideas for dealing with the nation's biggest environmental crisis in decades.
The seas were too rough and the winds too strong Friday to burn off the oil, suck it up effectively with skimmer vessels, or hold it in check with the miles of orange and yellow inflatable booms strung along the coast. The floating barriers broke loose in the choppy water, and waves sent oily water lapping over them.
Oil Slick's Projected Path
NOAA estimates that the oil slick will reach parts of the Louisiana coast Friday.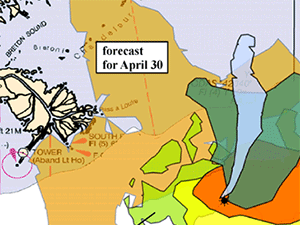 "It just can't take the wave action," said Billy Nungesser, president of Louisiana's Plaquemines Parish.
Louisiana's National Guard mobilized to fight the spill, but the first waves of crude neared the state's wetlands.
Sheen from the vast oil slick was beginning to penetrate the ecologically rich coastal marshes and barriers island, according to several reports, though the heavy oil was still offshore. The state of Louisiana diverted thousands of gallons of fresh water from the Mississippi River to try to flush out the wetlands, though that effort was being hampered by wind.
High seas were in the forecast through Sunday and could push oil deep into the inlets, ponds, creeks and lakes that line the boot of southeastern Louisiana. With the wind blowing from the south, the mess could reach the Mississippi, Alabama and Florida coasts by Monday.
The Guard prepared to send communication equipment, boats, all-terrain vehicles and other equipment to help. Animal rescue workers say they've begun to clean oil off sea birds coated from the oil spill that's begun to wash ashore along the Gulf Coast, according to Eileen Fleming of member station WWNO in New Orleans.
Weather May Drive Spill Deeper Inland
The National Weather Service predicted winds, high tides and waves through Sunday that could push oil deep into the inlets, ponds and lakes that line the boot of southeast Louisiana. Seas of 6 to 7 feet were pushing tides several feet above normal toward the coast, compounded by thunderstorms expected in the area Friday.
Crews are unable to skim oil from the surface or burn it off for the next couple of days because of the weather, Coast Guard Rear Adm. Sally Brice-O'Hara said.
Waves may also wash over booms strung out just off shorelines to stop the oil, said Tom McKenzie, a spokesman for U.S. Fish and Wildlife Service, which is hoping booms will keep oil off the Chandeleur Islands, part of a national wildlife refuge. "The challenge is, are they going to hold up in any kind of serious weather," McKenzie said. "And if there's oil, will the oil overcome the barriers even though they're ... executed well?"
President Obama sought to reassure Gulf Coast communities Friday and counter any perception that his administration has been slow to respond. At a Rose Garden news conference, he said the federal government is "fully prepared" to meet its responsibilities to them as the spill becomes a worsening environmental disaster.
The president said no new offshore leases would be issued to oil companies unless they were subject to stricter safety measures, NPR's Giles Snyder reported. But Obama, who recently lifted a drilling moratorium for many offshore areas, including the Atlantic and Gulf areas, underscored that offshore drilling remains an important part of U.S. energy policy.
The Coast Guard also defended the federal response to the spill.
Brice-O'Hara, appearing on multiple TV news shows, said the Coast Guard-led federal response to the spill has been rapid and sustained, and that it has adapted as the threat has grown since a drill rig exploded and sank last week. The Coast Guard, she said, has been closely monitoring efforts directed by oil company BP PLC to contain and stop the leak and has filled in gaps where needed.
Meanwhile, the Associated Press reported that in a 2009 exploration plan and environmental impact analysis for the well, BP suggested it was unlikely, or virtually impossible, for an accident to occur that would lead to a giant crude oil spill and serious damage to beaches, fish and mammals.
Military Planes Awaiting Orders
Hide caption

A boat uses a boom and absorbent material to soak up oil in Cat Bay, near Grand Isle, La., on June 28. A tropical storm is expected to hit the Gulf and impede cleanup efforts.

Joe Raedle/Getty Images

Hide caption

Florida Gov. Charlie Crist and wife Carole Rome Crist (right) stand with others during a Hands Across the Sand event June 26 in Pensacola, Fla. The event was staged across the nation to protest offshore oil drilling.

Joe Raedle/Getty Images

Hide caption

Oil clouds the surface of Barataria Bay near Port Sulpher, La., on June 19.

Sean Gardner/Getty Images

Hide caption

Workers adjust piping while drilling a relief well at the site of the Deepwater Horizon oil spill.

Charlie Neibergall/Getty Images

Hide caption

A dolphin rises up out of the water near Grand Terre Island off the coast of Louisiana on June 14.

Derick E. Hingle/AP

Hide caption

President Obama stands with Mississippi Gov. Haley Barbour (right) and Gulfport, Miss., Mayor George Schloegel after meeting with residents affected by the oil spill.

Charles Dharapak/AP

Hide caption

Crude oil washes ashore in Orange Beach, Ala., on June 12. Oil slicks, 4 to 6 inches thick in some parts, have washed up along the Alabama coast.

Dave Martin/AP

Hide caption

A volunteer uses a toothbrush to clean an oil-covered white pelican at the Fort Jackson Oiled Wildlife Rehabilitation Center in Buras, La., June 9.

Saul Loeb/AFP/Getty Images

Hide caption

A shrimp boat skims oil from the surface of the water just off Orange Beach, Ala., as a family enjoys the surf. Oily tar balls have started washing up on Orange Beach and beaches in the western Florida panhandle.

Dave Martin/AP

Hide caption

Sand from a dredge is pumped onto East Grand Terre Island, La., to provide a barrier against the Deepwater Horizon oil spill, June 8.

Charlie Riedel/AP

Hide caption

A dead turtle floats on a pool of oil from the Deepwater Horizon spill in Barataria Bay off the coast of Louisiana on June 7.

Charlie Riedel/AP

Hide caption

Workers use absorbent pads to remove oil that has washed ashore from the spill in Grand Isle, La., June 6.

Eric Gay/AP

Hide caption

Plaquemines Parish coastal zone director P.J. Hahn lifts an oil-covered pelican out of the water on Queen Bess Island in Plaquemines Parish, La., June 5.

Gerald Herbert/AP

Hide caption

Heavy oil pools along the side of a boom just outside Cat Island in Grand Isle, La., June 6.

Win McNamee/Getty Images

Hide caption

President Obama walks alongside Grand Isle Mayor David Camardelle (from right), U.S. Coast Guard Adm. Thad Allen, who is in charge of the federal response to the spill, and Chris Camardelle after meeting with local business owners in Grand Isle, La., June 4.

Saul Loeb/AFP/Getty Images

Hide caption

A brown pelican sits on the beach at East Grand Terre Island along the Louisiana coast after being drenched in oil from the BP Deepwater Horizon oil spill, June 3.

Charlie Riedel/AP

Hide caption

U.S. Attorney General Eric Holder announces that the Justice Department has launched a criminal investigation into the BP oil spill. With him, from left: Stephanie Finley and Jim Letten, U.S. attorneys for the Western District of Louisiana; Ignacia Moreno, assistant attorney general for the Environment and Natural Resources Division; Tony West, assistant attorney general, Civil Division; and Don Burkhalter, U.S. attorney for the Southern District of Mississippi.

Cheryl Gerber/AP

Hide caption

The oil slick off the coast of Louisiana, seen from above.

NASA via Getty Images

Hide caption

A worker leaves the beach in Grand Isle, La., on May 30. BP is turning to yet another mix of undersea robot maneuvers to help keep more crude oil from flowing into the Gulf.

Jae C. Hong/AP

Hide caption

Protesters cover themselves with a water and paint mixture during a demonstration at a BP gas station in New York City on May 28.

Mary Altaffer/AP

Hide caption

Workers clean up oil in Pass a Loutre, La. The latest attempt to plug the leak was unsuccessful.

Jae C. Hong, File/AP

Hide caption

Residents listen to a discussion with parish officials and a BP representative on May 25 in Chalmette, La. Officials now say that it may be impossible to clean the hundreds of miles of coastal wetlands affected by the massive oil spill.

Sean Gardner/Getty Images

Hide caption

An oil-soaked pelican takes flight after Louisiana Fish and Wildlife employees tried to corral it on an island in Barataria Bay on the coast of Louisiana. The island, which is home to hundreds of brown pelican nests as well at terns, gulls and roseate spoonbills, is impacted by oil from the Deepwater Horizon spill.

Gerald Herbert/AP

Hide caption

A sign warns the public to stay away from the beach on Grand Isle, La. Officials closed the oil-covered beaches to the public indefinitely on Saturday.

John Moore/Getty Images

Hide caption

Pelican eggs stained with oil sit in a nest on an island in Barataria Bay on May 22.

Gerald Herbert/AP

Hide caption

A bird flies over oil that has collected on wetlands on Elmer's Island in Grand Isle, La., May 20. The oil came inland despite oil booms that were placed at the wetlands' mouth on the Gulf of Mexico.

Patrick Semansky/AP

Hide caption

Members of the Louisiana National Guard build a land bridge at the mouth of wetlands on Elmer's Island.

Patrick Semansky/AP

Hide caption

The hands of boat captain Preston Morris are covered in oil after collecting surface samples from the marsh of Pass a Loutre, La., on May 19.

Gerald Herbert/AP

Hide caption

Louisiana Gov. Bobby Jindal (center) and Plaquemines Parish President Billy Nungesser (right) tour the oil-impacted marsh of Pass a Loutre, La. "This is the heavy oil that everyone's been fearing that is here now," said Jindal.

Gerald Herbert/AP

Hide caption

BP Chairman and President Lamar McKay (left), with Transocean President and CEO Steven Newman (center) and Applied Science Associates Principal Deborah French McCay, testifies during a Senate Committee on Commerce, Science, and Transportation hearing May 18 on response efforts to the Gulf Coast oil spill.

Manuel Balce Ceneta/AP

Hide caption

This undated frame grab image received from BP and provided by the Senate Environment and Public Works Committee shows details of the oil spill in the Gulf of Mexico. BP has agreed to display a live video feed of the oil gusher on the Select Committee on Energy Independence and Global Warming Committee's website beginning Thursday evening.

Senate Environment and Public Works Committee/AP

Hide caption

President Obama speaks with local fishermen about how they are affected by the oil spill in Venice, La., on May 2.

Saul Loeb/AFP/Getty Images

Hide caption

Danene Birtell with Tri-State Bird Rescue and Research tends to a Northern Gannet in Fort Jackson, La., on April 30. The bird, normally white when full grown, is covered in oil from the oil spill.

Alex Brandon/AP

Hide caption

Since the explosion, a third oil leak has been discovered in the blown-out well.

Gerald Herbert/AP

Hide caption

In this aerial photo taken April 21 more than 50 miles southeast of Venice, La., the Deepwater Horizon oil rig burns.

Gerald Herbert/AP

Hide caption

Tendrils of oil mar the waters of the Gulf of Mexico in this satellite image taken Monday. An estimated 5,000 barrels of oil a day are seeping into the Gulf, after an explosion last week on a drilling rig about 50 miles off the Louisiana coast.

Courtesy of Digital Globe
The Gulf spill was up to five times larger than first estimated and could surpass the Exxon Valdez disaster in scope.
Florida's governor declared a state of emergency as the slick spread across the Gulf. The declaration from Gov. Charlie Crist, which covers six counties in the state's panhandle, frees up state money and activates Florida's National Guard to respond to the crisis.
But Judith Smelser of member station WMFE in Orlando said some experts think ocean currents could carry the oil all the way around the Florida Peninsula.
Two Air Force planes have been sent to Mississippi and were awaiting orders to start dumping chemicals on the oil spill threatening the coast, as the government worked Friday to determine how large a role the military should play in the cleanup.
The C-130 Hercules cargo planes, specially designed for aerial spraying, were sent Thursday from the Youngstown Air Reserve Station in Ohio, said a spokesman there, Master Sgt. Bob Barko Jr.
The planes and crews were standing ready in case they're needed, said Maj. David Faggard, an Air Force spokesman at the Pentagon.
"If this mission comes to pass, it would be first time we have done this in a real world scenario," Barko said, adding that the 910th Airlift Wing at Youngstown has trained for such a mission and has done other spraying such as mosquito-abatement flights after Hurricane Katrina in 2005.
NPR's Wade Goodwyn, reporting from New Orleans, said that as the slick moved closer to shore, a strong smell of crude oil had penetrated the city and other parts of southern Louisiana, extending as far as Baton Rouge. Authorities urged people with respiratory illness to take precautions or remain indoors.
Hundreds Of Gulf Coast Species Imperiled
The oil slick could become the nation's worst environmental disaster in decades, threatening hundreds of species of fish, birds and other wildlife along the Gulf Coast, one of the world's richest seafood grounds, teeming with shrimp, oysters and other marine life.
Louisiana Gov. Bobby Jindal declared a state of emergency Thursday, which allows the state to free up resources to prepare for the oil's impact.
The Coast Guard has worked with British oil giant BP, which operated the rig that exploded April 20 and then sank, to deploy floating booms, skimmers and chemical dispersants, and to set controlled fires to burn the oil off the water's surface.
Obama has pledged that his administration will use "every single resource at our disposal." Homeland Security Secretary Janet Napolitano, Interior Secretary Ken Salazar and environmental protection administrator Lisa Jackson will travel to the Gulf of Mexico on Friday to oversee efforts to contain the spill.
Salazar said he pressed the chief executive of BP to "work harder and faster and smarter to get the job done." He said the government will not rest until BP seals the well and "they clean up every drop of oil."
As for the cause of the accident, he said: "I am confident we will get to the bottom of what happened here. Those responsible will be held accountable."
BP confirmed Thursday that up to 5,000 barrels, or 200,000 gallons, of oil a day are spilling from the site of the deadly oil rig explosion in which 11 workers are still missing and presumed dead.
Many of the more than two dozen lawsuits filed in the wake of the explosion claim it was caused when workers for oil services contractor Halliburton Inc. improperly capped the well. Halliburton denied it.
At that rate, the spill could easily eclipse the worst oil spill in U.S. history — the 11 million gallons that leaked from the grounded tanker Exxon Valdez in Alaska's Prince William Sound in 1989 — in the three months it could take to drill a relief well and plug the gushing well 5,000 feet underwater on the seafloor. Ultimately, the spill could grow much larger than the Valdez because Gulf of Mexico wells typically hold many times more oil than a single tanker.
At least 1.6 million gallons of oil have spilled, according to Coast Guard estimates.
'We'll Take Help From Anyone'
Jackie Savitz, a toxicology scientist with the environmental group Oceani, says that at the current flow rate, the spill will reach the 11 million gallon mark of the Exxon Valdez spill in 50 days. The Gulf holds several endangered and threatened species, including four species of endangered sea turtle, in addition to dolphins, porpoises and whales.
"This is one of only two spawning areas for bluefin tuna in the world," Savitz said. "If larvae are exposed, there's a good chance they won't survive or their survival will be reduced because of the oil spill."
Doug Suttles, the oil company's chief operating officer, told NBC's Today show that oil is bubbling up from the ocean bottom at a rate of 1,000 to 5,000 barrels a day. He said the company would welcome help from the U.S. Defense Department and other agencies in containing the slick.
"We'll take help from anyone," Suttles said.
As the slick has grown, so have potential cleanup costs. Napolitano called BP the responsible party for costs "as the president and the law have made clear."
Industry officials say replacing the Deepwater Horizon, owned by Transocean Ltd. and operated by BP, would cost up to $700 million. BP has said its costs for containing the spill are running at $6 million a day. The company said it will spend $100 million to drill the relief well. The Coast Guard has not yet reported its expenses.
The massive Gulf spill could result in billions of dollars losses for BP and curb plans to expand offshore drilling, according to NPR's Chris Arnold.
The chairman of PFC Energy, Robin West, says BP could spend several hundred million dollars on cleanup efforts but that bigger costs could come from legal liability for spill-related damages.
"If it gets into all the bayous and estuaries and things like that, the potential liability is immense," West said. "The Mississippi River delta is one of the great spawning grounds on earth."