Placed In A Weak Position, Blair Lost Power Struggle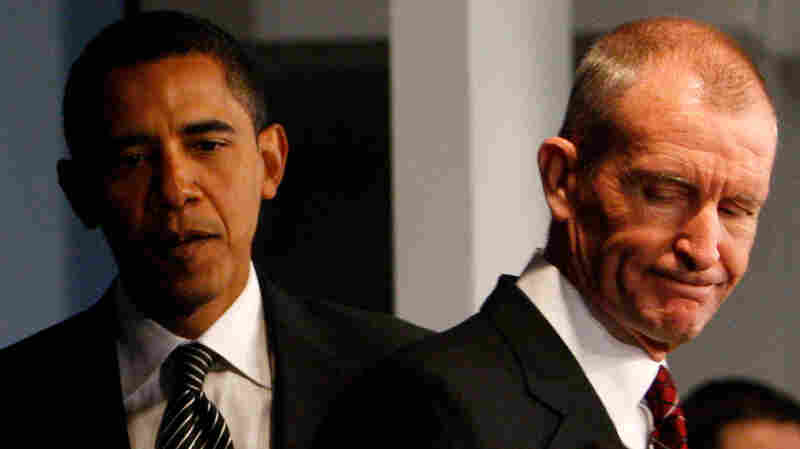 The decision to scuttle Dennis Blair as the director of national intelligence came after a series of turf battles with the Pentagon, the CIA and the White House itself.
Blair confirmed Thursday evening that he was leaving, and a White House statement praised his "record of service," but there was more to the story.
"Effectively, Blair was fired," NPR national security correspondent Tom Gjelten said Friday on Morning Edition.
In fact, President Obama called the retired admiral Thursday afternoon and asked him to resign, following a meeting in the White House earlier Thursday afternoon.
Blair and the president had also discussed Blair's potential departure on various earlier occasions, Gjelten said.
Yet officials close to Blair told Gjelten that the final decision "came as a surprise."
"It was his intention to stay," Gjelten said.
Tensions between Blair and the White House began to escalate in the aftermath of a failed attempt to bomb an airliner on Christmas Day in 2009, Gjelten said. There were disagreements over how the incident was handled.
This week, the Senate Intelligence Committee published a report that indicated that U.S. intelligence officials had failed to "connect the dots" in the run-up to the bombing attempt.
"If there's anybody in the U.S. government who is supposed to connect the dots, it's the [director of national intelligence]," Gjelten said. "So [Blair] really had to take the sword on that one. ... It was becoming clear the White House had just lost confidence in him."
Another telling sign came when Gen. James Jones, the president's national security adviser, chose to take CIA Director Leon Panetta with him to Pakistan instead of Blair.
Now there are deep questions about how the position Blair held will be defined going forward.
Congress created the DNI in response to the Sept. 11, 2001, attacks, expressly to help the intelligence community better share and analyze information about terrorist threats.
But many in Washington are rethinking that move.
"The lines of responsibility in the intelligence world are not clear," Gjelten said.
Blair, who butted heads with CIA Director Panetta — and lost at least one previous tussle over a CIA station chief — was a "take-charge guy" who in past military roles had a relatively free hand, Gjelten said.
"He was unhappy with the way the White House was, in his view, sort of micromanaging intelligence affairs," Gjelten said.
Interviews have already begun for his replacement, and Gjelten said the White House appears to have a "short list" in mind.
One leading candidate may be James Clapper, undersecretary of defense, who has worked closely with Defense Secretary Robert Gates and would likely not face much opposition from Republicans.
But questions will be asked about the nature of the job.
"Any candidate that comes into that position, I can tell you, will want to have their responsibilities, their authority, clearly clarified," Gjelten said. "That has not happened yet."