Probing Issues
As A Matter Of Fact posts about Probing Issues
Do you remember how impressed you were in the 90's when you logged in, waited 20 minutes for a site's graphics to download, and then first viewed the wonders of the Internet? Was it apparent to you back then how much would change?
Frankenstein could be the new Earth Day Spokes-Monster.
Support The Programs You Love
If I use Twitter does that mean I'm a twit?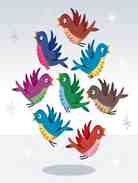 Now that we've determined the internet is just a giant funnel, does this mean it's an evolutionary advantage to be a scatterbrain, or am I still out of luck?