Government Price Controls Choke Zimbabwe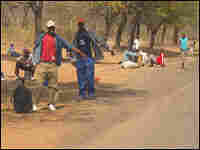 Government-imposed price controls in the southern African nation of Zimbabwe have left grocery store shelves virtually empty and gas pumps dry. The prices dictated President Robert Mugabe are often below the cost of production, forcing many businesses to close and leaving residents stranded and hungry.
Reporter 'Lee,' who uses the pseudonym because the Zimbabwean government severely restricts journalists, talks with James Hattori.