Face Of Slain BART Rider Reappears In Oakland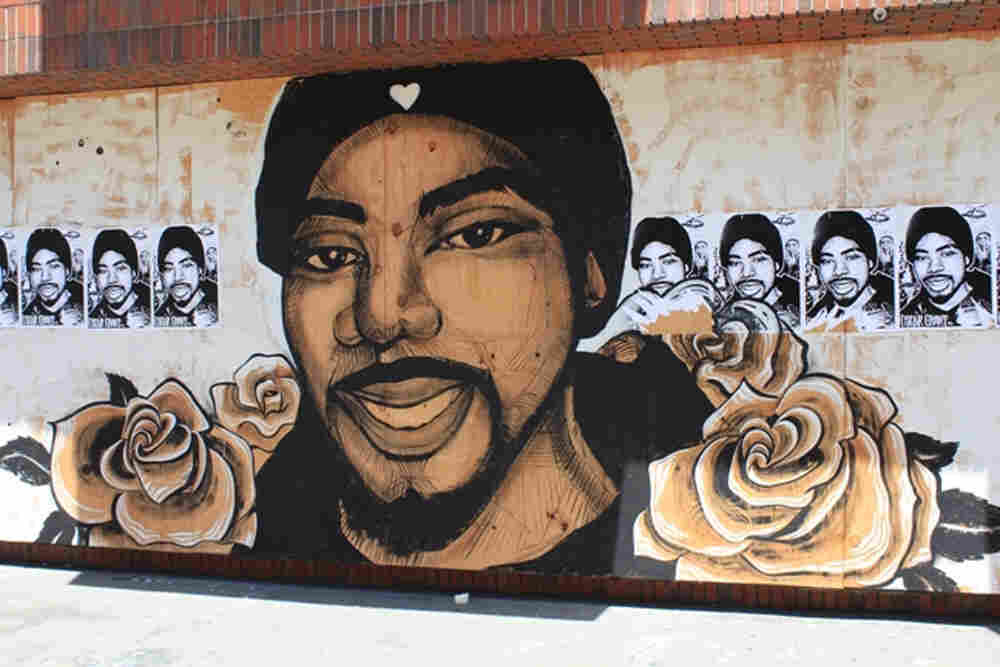 Ayesha Walker/Youth Radio
Downtown Oakland, Calif., is boarded up as residents await sentencing for the transit cop found guilty of manslaughter for killing unarmed passenger Oscar Grant on New Year's Day. Some graffiti artists are transforming the boarded-up buildings, and some stencils of the slain man are being welcomed by business owners.
ROBERT SIEGEL, host:
Police in Oakland arrested 78 people last night during a protest over the involuntary manslaughter conviction of former transit police officer Johannes Mehserle. Many in Oakland had wanted a murder conviction.
Last Friday, when the judge sent the jury to deliberate, store owners in downtown Oakland began boarding up windows, fearing a riot. Many also put up posters depicting Oscar Grant, the victim. Youth Radio's Denise Tejada reports from Oakland.
DENISE TEJADA: Here in downtown Oakland, the question was: Is Oscar Grant's image a protection for store owners, or a sign of support? Kelly Finnigan is an insurance clerk at a dental office downtown. While her neighbors boarded up their windows, her office chose to tape up a single Oscar Grant poster.
Ms. KELLY FINNIGAN (Insurance Clerk): If the picture saves us from getting our windows broken, we'll have it up. But we have it up for support of the family. And I think that the rioters aren't really the Oscar Grant protesters. The real Oscar Grand protesters are the ones that are peaceful, you know what I mean? His family doesn't want more violence. There's been enough violence.
TEJADA: There are Oscar Grant posters all over, and many of them come from People's Choice silkscreen. Owner Sorell Raino-Tsui wallpapered his windows with posters, and says he had no idea they would become so popular.
Mr. SORELL RAINO-TSUI (Co-Owner, People's Choice Printing): A lot of businesses in downtown started coming by. They saw us on the news. They were asking for posters, wanted to put up posters of their own so that their property wouldn't be damaged, so that they could show their support. And we probably had 100 businesses come by over the last few days and ask for posters.
TEJADA: While the jury deliberated in fits and starts over the last week, community leaders worked to change the rallying cry from demand justice for Oscar Grant, to violence is not justice.
As soon as the involuntary manslaughter verdict was announced in Los Angeles, office buildings in Oakland emptied, and there was an instant traffic jam on roads leaving the city.
The initial protests in front of City Hall were mostly non-violent. But when night fell, as promised, anarchists and others battled police, set fire to dumpsters, broke windows and looted several stores.
Grace Lee, who closed her beauty supply store minutes before the verdict was read, watched the protests from home on her TV. At 10 p.m., she got a call from the alarm company.
Ms. GRACE LEE (Business Owner): Somebody just broke the window. And then a few minutes later, a bunch of people just walked in, just ran into the store, taking the merchandise from here. I don't know what to say. I'm really disappointed.
TEJADA: This morning, crews were cleaning up the damage, replacing cracked windows or boarding up new ones. Store owners who boarded up say they are glad they did. They say they'll keep their plywood up, and their Oscar Grant posters, until after the judge's sentencing on August 6.
For NPR News, I'm Denise Tejada.
(Soundbite of music)
MELISSA BLOCK, host:
This is NPR.
NPR transcripts are created on a rush deadline by Verb8tm, Inc., an NPR contractor, and produced using a proprietary transcription process developed with NPR. This text may not be in its final form and may be updated or revised in the future. Accuracy and availability may vary. The authoritative record of NPR's programming is the audio record.