Ex-Alaska Sen. Stevens Killed In Plane Crash
Ted Stevens, the longest-serving Republican senator in U.S. history, died in a plane crash Monday night in a remote part of southern Alaska.
Family spokesman Mitch Rose said Tuesday that Stevens was among five people killed in the crash of a small aircraft outside Dillingham, about 325 miles southwest of Anchorage. He was 86.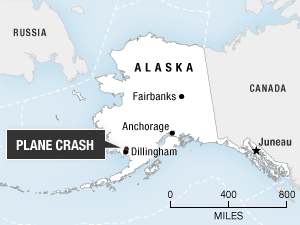 "Sen. Stevens' family was notified that he did not survive the plane crash near Dillingham," Rose said. "He's — he's gone."
Nine people were on the plane when it went down, officials said. Among the other passengers were Sean O'Keefe, a former NASA administrator, who survived along with his teenage son, Kevin, former NASA spokesman Glenn Mahone said.
The O'Keefes suffered broken bones and other injuries, Mahone said, but spent Monday night on the mountain with several volunteers who discovered the wreckage and tended to the injured until rescuers arrived Tuesday morning.
Also onboard was Jim Morhard, a lobbyist who had served as a committee aide to Stevens. Morhard survived the crash.
Also surviving the crash was 13-year-old William "Willy" Phillips, Jr.
Photos: A Life In The Senate
The victims were identified as Stevens; pilot Theron "Terry" Smith, 62, of Eagle River; William "Bill" Phillips Sr.; Dana Tindall, 48, an executive with GCI; and her 16-year-old daughter Corey Tindall.
Details About The Crash
The plane went down around Monday evening, but the weather delayed rescue missions until Tuesday morning. The Bristol Bay region is known for its fishing — especially trout and salmon — and in the summer, private lodges attract VIPs from the Lower 48. Rose, the family spokesman, said he believes the former senator was on a fishing trip.
"He was an avid fisherman. Anytime that he could get away and get a rod and a reel in his hand he did, especially in Alaska," Rose said. "And I wouldn't be surprised if he was traveling with friends to go, you know, land a king salmon somewhere."
Federal Aviation Administration spokesman Mike Fergus said the plane, a 1957 DeHavilland DHC-3T registered to Anchorage-based General Communications Inc., took off at 2 p.m. Monday from a GCI corporate site on Lake Nerka, heading to the Agulowak Lodge on Lake Aleknagik. He said the plane was flying by visual flight rules and was not required to file a flight plan.
Rick Halford, a pilot who was flying in the same area Monday, said visibility was poor.
"It was the kind of weather where you probably shouldn't fly, and if you do fly you have to fly very, very carefully and you have to recognize that you may have to land on a small water body and you may be stuck there if the weather closes in in front of you and behind you," he said.
Stevens had survived a 1978 plane crash at Anchorage International Airport — which was later renamed for him. That crash killed his first wife, Ann, along with several others. Stevens later remarried.
Alaskans, Colleagues Stunned
Stevens' death shocked both lawmakers and residents alike.
"Alaska has lost one of its greatest statesmen and a true pioneer of our state with the passing of Sen. Ted Stevens," said Sen. Mark Begich, an Anchorage Democrat who narrowly defeated Stevens in 2008.
His counterpart, Sen. Lisa Murkowski, said the state had lost a hero and "I lost a dear friend," praising Stevens' service during World War II. He flew cargo planes over "the hump" in the Himalayas and was awarded the Distinguished Flying Cross.
A White House spokesman said President Obama called Stevens' widow, Catherine, on Tuesday afternoon to express his condolences.
"A decorated World War II veteran, Sen. Ted Stevens devoted his career to serving the people of Alaska and fighting for our men and women in uniform," Obama said in prepared remarks.
A moderate Republican, Stevens was appointed in December 1968 and became the longest-serving Republican in Senate history. (The late Strom Thurmond was in the Senate longer than Stevens, but he spent a decade there as a Democrat before switching to the GOP.)
"He always kept his word to me and to other senators. In moments of legislative battle, he would come onto the floor wearing his Hulk tie, and he would growl and act like a bulldog. But then he would spot friends on the floor and give a wink and a grin," said Sen. Patrick Leahy (D-VT).
The wiry octogenarian was a legend in his home state, where he was known as "Uncle Ted." Though he was built like a birch sapling, he liked to encourage comparisons with the Incredible Hulk — an analogy that seemed appropriate for his outsized place in Alaska history.
He was named Alaskan of the Century in 1999 for having the greatest impact on the state in 100 years. He brought in "Stevens money" that literally helped keep the remote state solvent.
"He is one of the real giants," said Paul Brown, a consultant to nonprofits who was having lunch at an outdoor cafe in Anchorage. "He dedicated his life to this state."
"He did his job and he did it well," said Royce Metz, a bookstore worker. "That's all I want to know about a politician: Do your job."
Career As An Appropriator
Stevens had once served as the Senate Republican whip and was chairman of several committees through the course of his long career, including Appropriations — a perch he used to help make Alaska the largest per capita recipient of federal dollars.
"No senator in the history of the United States has ever done more for his state than Sen. Ted Stevens," Mitch McConnnell, the Senate Republican leader from Kentucky, said during a 2008 speech marking Stevens' departure from the chamber.
The senator was a stalwart supporter of defense spending and was known for his persistence in steering federal dollars to Alaska. As early as 1989, an Anchorage newspaper had dubbed him the state's "six billion dollar man."
Most notoriously, Stevens was the champion of the so-called Bridge to Nowhere, a $450 million project to connect Ketchikan, Alaska, with an island inhabited by 50 people. He called a 2005 amendment to use the money instead to rebuild an interstate bridge destroyed by Hurricane Katrina "an offense to me" and threatened to resign if it passed. It didn't.
But Stevens failed in his years-long quest to open the Arctic National Wildlife Refuge to oil and gas drilling. He called a 2005 filibuster that blocked ANWR drilling "the saddest day of my life."
Corruption Charges Dropped
In 2003, the Los Angeles Times reported that Stevens had become a millionaire through dealings with contractors and companies with business before his committees. Stevens denied any wrongdoing and said he had merely been helping his state. But he eventually sold off some of the investments in question.
In 2008, Stevens was indicted on seven counts that grew out of a corruption investigation involving VECO, an oil services company. The firm's former chief executive and vice president had pleaded guilty in 2007 to providing more than $400,000 in payments to Alaska public officials. Stevens was accused of not disclosing gifts on Senate forms.
A dozen state officials in Alaska were indicted as part of the VECO case. But in addition to dropping the charges against Stevens, the Justice Department last year asked a federal appeals court to release two former state lawmakers who had been convicted in 2007, saying prosecutors had not provided their defense lawyers with important information.
Vindication came too late to salvage Stevens' career, however. He filed last year for the 2014 election, but only to accept campaign donations that had come in following his defeat.
NPR's Martin Kaste contributed to this report, which includes material from The Associated Press