Exhibit Challenges French Impressions Of Monet
i
Jacques Demarthon/AFP/Getty Images
Claude Monet may be the father of French impressionist painting — but curators of a new Monet exhibit in Paris say he's been overlooked in, of all places, France. Now, a show at the Grand Palais museum is designed to change that — it showcases nearly 200 works of Monet's art, on loan from museums around the world.
Crowds have flocked to the exhibit since it opened in late September. Patient art lovers stand in double lines snaked through the garden outside the museum — and say they're ready to wait for hours.  The show has extended its hours until 10 p.m. to accommodate the throngs of visitors, most of them French — though there are many Americans in the mix as well.
Americans have a long tradition of embracing impressionist painting, says Richard Thomson, one of the exhibit's curators. Major American museums, he explains, have "really deep collections of Monet based on the purchases of the late 19th and the early 20th centuries."
The Paris exhibition highlights Monet's evolution from a gifted landscape painter to the master artist whose feathery brushstrokes captured the light and color of a fleeting moment, and launched the impressionist movement. The collection showcases the subjects that obsessed Monet throughout his long life: the rocky coastline of Normandy, the steel and steam of Paris train stations, the poplar-lined banks of the river Seine.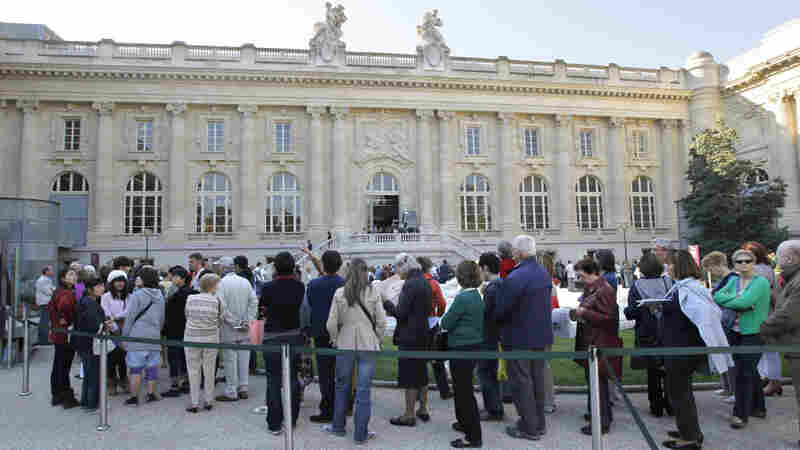 i
Patrick Kovarik/AFP/Getty Images
But Monet wasn't always celebrated in his homeland — in the 1870s, he was scorned by the Paris art world, where his work was compared to wallpaper. Guy Cogeval, the exhibit's head curator, says even in the 20th century, Monet has been met with what he calls a Gallic snobbishness.
"Monet was a bit considered, I don't know, old-fashioned," Cogeval explains. And there was also the idea that Monet was for tourists in France, but not for French people themselves.  "Monet was for Japanese, for Americans, but not for the French," Cogeval says.
It's not so hard to understand the French ambivalence toward Monet.  His most popular works are so well-known they're almost invisible. In a sense, his paintings are a ubiquitous kind of wallpaper — decorating calendars, dentists' offices and dorm rooms the world over.
But Thomson, who, in addition to being a curator of the exhibit is also a professor of fine arts at the University of Edinburgh, says Monet's paintings can still thrill and surprise.
'Monet In Normandy': A Series About The Making Of Impressionism
"Not only did he paint for 60 years," Thomson says, "he painted with an incredibly high level of quality, and above all, a willingness to challenge himself and therefore produce work of real variety and invention through out those six decades."
Monet produced nearly 2,000 paintings during his lifetime. He painted into his 80s, even after cataracts clouded his vision. Monet's genius is evident throughout the Grand Palais exhibit, which, judging by the French-speaking crowds, has now seduced even the natives.
"It is clearly part of our cultural heritage," said one French museum visitor. "The impressionists are to France what the Renaissance is to Italy."
The Monet exhibit has exceeded the curators' hopes of reconciling France with their national treasure. The show, which the French press called a "once in a life time exhibit," is expected to draw more than a half-million people before it closes in January 2011.