Director's Cuts: New CDs from Mark Oliver Everett
In this edition of Director's Cuts, Weekend Edition Sunday's music director Ned Wharton reviews two new projects from Mark Oliver Everett, also known simply as "E." His group Eels has a new disc on DreamWorks called Shootenanny! and under the name MC Honky, the fictitious rapper produces "Self Help Rock" on the CD I Am the Messiah on spinART Records.
Copyright © 2003 NPR. All rights reserved. No quotes from the materials contained herein may be used in any media without attribution to NPR. This transcript is provided for personal, noncommercial use only, pursuant to our Terms of Use. Any other use requires NPR's prior permission. Visit our permissions page for further information.
NPR transcripts are created on a rush deadline by a contractor for NPR, and accuracy and availability may vary. This text may not be in its final form and may be updated or revised in the future. Please be aware that the authoritative record of NPR's programming is the audio.
MC Honky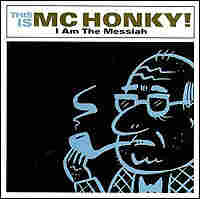 E's funky and funny alter-ego, MC Honky, mixes Shakespeare sonnets and self-help spoken word from found vinyl to create a swingin' CD called I Am the Messiah on spinART records.
Listen: "Restraining Order Blues"
Listen: "Rock Hard Times"
Eels
The fifth release from E's group is Shootenanny! on DreamWorks. It's quirky, creatively produced pop featuring sometimes dark lyrics.
Listen: "Baby Elephant Rock-a-Bye"
Listen: "A Good Day to Be You"
Listen: "3 Turntables & 2 Microphones"