Israel to Cut Off Power, Supplies to Gaza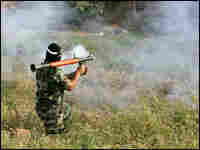 Mahmud Hams/AFP/Getty Images
Israel's Security Cabinet has declared the Gaza Strip an "enemy entity" as a first step toward cutting off power and fuel supplies to the coastal strip, a move sure to put a damper on Secretary of State Condoleezza Rice's peacemaking mission.
A statement from Prime Minister Ehud Olmert's office said Israel did not intend to provoke a humanitarian crisis and set no timetable for cutting off vital supplies to the Palestinian territory.
Rice arrived on Wednesday to mediate on key issues dividing Israel and the Palestinians ahead of a broader U.S.-sponsored peace conference.
Asked about Israel's declaration, Rice did not criticize it. "Hamas is a hostile entity to the United States as well," she
said at a news conference. "We will not abandon the innocent Palestinians in Gaza, and indeed will make every effort to deal with their humanitarian needs."
The conference tentatively is scheduled for Washington in November, but an official in the office of Palestinian President Mahmoud Abbas said the leader would ask Rice not to set a firm date for the peace gathering until it is clear he and Israeli Prime Minister Ehud Olmert can agree upon a joint statement setting out their goals.
The U.S. thinks Abbas has a freer hand to reach a final accord with Israel now that he has expelled Islamic Hamas militants from power for violently seizing control of Gaza in June. Abbas has set up a new government of moderates in the West Bank.
The Israeli Security Cabinet's declaration of Gaza as an "enemy entity" could become the most severe retaliatory measure Israel has taken recently against rocket fire from the strip into southern Israel.
"Additional restrictions will be imposed on the Hamas regime, limiting the transfer of goods to the Gaza Strip, cutting back fuel and electricity, and restricting the movement of people to and from the strip," a statement from Olmert's office said.
The statement said the sanctions would be enacted "following a legal review" and would be designed to avoid a humanitarian crisis.
Impoverished Gaza's 1.4 million people are almost entirely dependent on Israeli suppliers for power and fuel, and a cutoff would draw international condemnation.
"The objective is to weaken Hamas," Defense Minister Ehud Barak told the Security Cabinet meeting, according to one participant.
Israel's current policy of airstrikes and brief ground incursions has been ineffective. Barak said Israel was moving closer to a large-scale military operation in Gaza - an option that has not halted rocket fire in the past and would likely mean heavy casualties on both sides.
"Every day that passes brings us closer to an operation in Gaza," Barak was quoted as saying.
Hamas and Abbas' government both condemned the Security Cabinet's move.
"It is collective punishment against the people of Gaza, and discourages serious political discussion,' said Ashraf Ajrami, a minister in Abbas' government.
Sami Abu Zuhri, a Hamas spokesman, said his group would "confront the new aggression and escalation with all possible means." A cutoff of resources, he said, would doom the Washington conference.
From NPR reports and The Associated Press