When Democrats Attack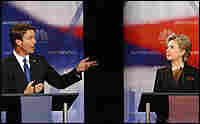 Stan Honda/AFP/Getty Images
The Democratic contenders for president squared off in another debate on Tuesday.
We explore some of the forum's livelier moments. Highlights include Barack Obama saying he would wear a Mitt Romney mask for Halloween, Dennis Kucinich recalling the time he spotted a UFO and the general attack on front-runner Hillary Clinton.
On our blog, an open thread: Barack Obama said he was going to attack Clinton, and then he did. Was he smart to call his own shot?