American Diplomats Balk at Serving in Iraq
Ali Yussef/AFP/Getty Images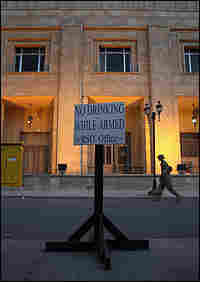 Hundreds of American diplomats vented their anger yesterday at a new State Department policy that forces them to go to Iraq or lose their jobs.
During the contentious hour-long, town-hall-style meeting, they expressed concern over security, personal sacrifice and alleged inadequate care of previous envoys to war zones.
The State Department decided to mandate service after failing to find volunteers for 48 of the 252 posts that will become vacant next summer in Iraq.
One veteran diplomat drew extended applause from the crowd when he brought up the issue of whether foreign service officers support the war. "It's one thing if someone believes in what's going on over there and volunteers," Jack Croddy said. "But it's another thing to send someone over there on a forced assignment. And I'm sorry, but basically that's a potential death sentence, and you know it.
"Who will take care of our children?" Croddy continued. "Who will raise our children if we're dead or seriously wounded? Who will get our kids through life?"
The man added that the Baghdad embassy should have been closed, given the regular incoming rocket fire.
Harry Thomas, a State Department representative, told the staffer his remarks were full of inaccuracies. The department is expected to tell about 200 diplomats this week that they're likely to be called to Iraq, and says they'll have to go unless they provide a valid medical excuse.
On our blog, an open thread: Should the diplomats have to go? Would you go?