Orba Squara: Diving into Emotion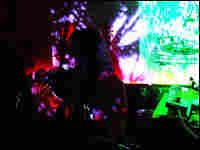 Set List
"Gravel"
"Perfect Timing (This Morning)"
"The Only Thing"
"My Favorite Song"
Orba Squara burst onto the national music scene when its song "Perfect Timing" was featured in an iPhone TV commercial. Thrown into a whirlpool of popularity, Orba Squara has leaped from anonymity to instant fame.
The band recently released its first album, Sunshyness, featuring both the iPhone jingle and "Brand New Day," a song from the Wedding Daze soundtrack.
Its organic music includes such instruments as guitar, dobro, mandolin, ukulele, xylophone, glockenspeil, piano and violin. The lyrics, according to the band, "dive into a breadth of emotions that range from sweetly innocent to deeply introspective to directly examining human nature. But they always have a sense of hopefulness and hang on to a positive thread. Even the sad songs make you come away with a smile."
Related NPR Stories
Web Resources