Nadja Salerno-Sonnenberg, Clara Rockmore, Virginia Rodrigues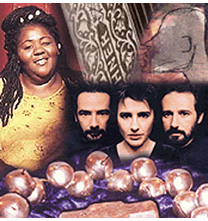 Virginia Rodrigues, Nadja Solerno-Sonnerberg, The Gillham Park Orchtet, Kepa Junkera, Clara Rockmore, and the Palm Fabric Orchestra.
Download this show in the All Songs Considered podcast.
Sign up for the All Songs Considered newsletter and we'll tell you when new music features are available on the site.
Nadja Salerno-Sonnenberg, Clara Rockmore, Virginia Rodrigues
Featured Artist