Santiago: Eatery Serves Hearty Food, Eclectic Crowd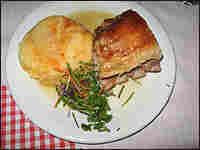 Liguria Bar and Restaurant is a place where comfort food meets kitsch in and bow-tie sporting waiters serve up warmth, charm and hearty dishes.
You can stumble into a book launch or a poetry reading at this "in-spot" in the Santiago neighborhood of Providencia.
Owned by two brothers, Juan Pablo and Marcelo Cicali, Liguria has become so popular there are now three locations. The original, though, near Manuel Montt metro stop (named for the man who rose from poverty to become Chile's president) is often the most hopping.
But be warned: It fills up quickly with a diverse clientele. There's a full house for lunch and by 9:30 in the evening it's standing room only. Hip young professionals, politicians, actors, sports stars and local celebrities vie for tables — and the attention of the low-profile owners.
Faces recognizable from Chilean films, theater and television news mingle with the crowd of anonymous bohemians. Artists and intellectuals settle their differences over a bottle of wine from Liguria's expansive cellar of local options.
For all the glitterati, the famous and not-so-famous are accorded equally excellent service. One frequent customer says, "It's not uncommon to recognize someone, but nobody turns to stare. In the end, with a glass in hand and our little baskets of peanuts, we are all treated the same."
Food mixed with fun is a longstanding family business. The owners' grandfather, Giovanni Cicali, also was a restaurateur. He arrived in Chile from Liguria, Italy, in the early 1900s with two partners — and the three opened the Tres Mosqueteros, a family-style restaurant and dance hall in downtown Santiago.
Across town and a generation later, house specialties at Liguria range from veal osso buco to roast rabbit and pork ribs in mustard sauce. Portions are ample and so are the salads that burst with scrumptious hearts of palm and red-ripe Chilean tomatoes.
Chile, of course, is as famed for its wines as it is its food. Liguria boasts a cellar of 150 different national wines. My favorite is the Carmenere ($11.50 to $20). The grape with the perfume of ripened fruit originally thrived in the Medoc region of France until an outbreak of phylloxera destroyed it there in the late 19th century.
Liguria's distinctly quirky character is part of its success. It's reminiscent of the old bars of Buenos Aires with beautiful beveled glass and long mahogany bars. The walls are chock-a-block with an eclectic assortment of tin signs, rustic antique photographs and images of icons from politicians to Hollywood types — a photo of the cavorting Vegas Rat Pack smiles down on diners while one of a young Elvis Presley shares a corner with Che Guevara and Chile's late Socialist leader Salvador Allende, who was ousted in a coup led by the late dictator General Augusto Pinochet.
Liguria Bar and Restaurant Ave. Providencia 1373 Branch at Manuel Montt Metro. Telephone: 56.2.253.7914. Open Monday through Saturday from noon-1:00 a.m. An English/Spanish Web site, www.liguria.cl, includes the menu, wine list, and recipes.